Thanks for stopping by to read my Blog Report for March 2021. This month had a lot of unreached goals, but it was still pretty great! I did some calculations and found that I had earned over $800 since starting a blog, and I didn't have a negative balance this month! (HECK YES!)
The past couple of months, I have been busy revamping my website and designing my packages for the services I offer. My service page is almost completed, and I am so thankful that I say that because it has taken A LOT of my extra time.
In fact, this blog post was a little harder to get out this month due to me being so busy and taking on some clients! Working a full-time job and operating a full-time side business is H A R D, but I manage it extremely well.
I honestly cannot wait to expand and add some employees of my own one day. With my virtual assistant and graphic design business, I hope this is feasible with my dedication to seeing my business grow. I've already proved to myself that blogging is where I need to be, so I don't plan on going anywhere anytime soon.
If you haven't already, you can view my other blog reports below to see how I have felt, what I've run into, and what I've done to get where I am.
---
This post contains affiliate links, meaning that if you choose to click through and make a purchase, I will receive a small commission at no cost to you. You can read more about it–>HERE.
---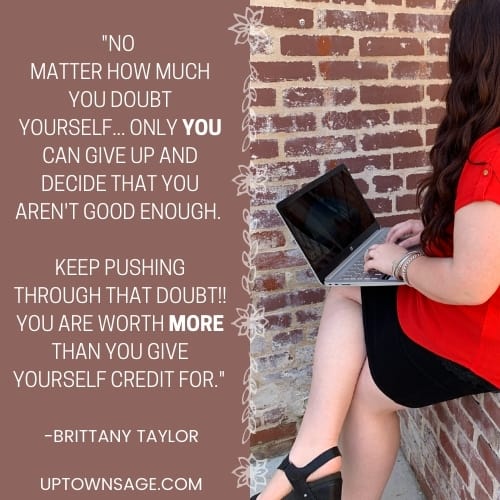 Introduction
If you are new here, I'm Brittany and I started this blog for a ton of reasons; however my top three reasons have to be:
To inspire others to pursue their passion.
For myself, because I needed a creative outlet and a place where my voice is heard.
To earn a passive income for my family.
What does passive income even mean, though?
According to Wikipedia: Passive income is income that requires little to no effort to earn and maintain. There are a ton of ways to earn passive income, but it is far from easy.
Building a business takes a long time, especially a profitable one. However, with the right setup and motivation for success, almost anyone could do this.
Do you need help promoting your business? Join the Facebook group: Blogging Business Alliance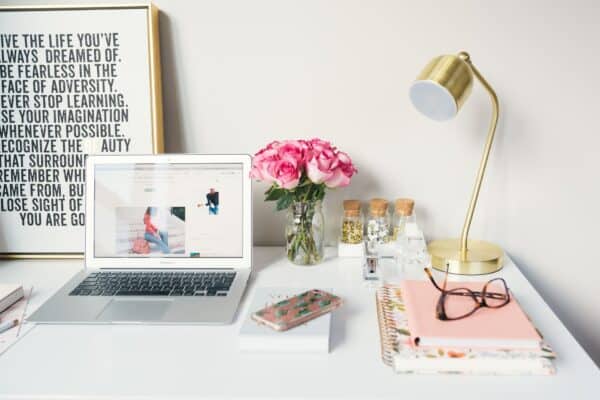 Why am I sharing this report?
Sharing this report is a way for me to track my success and accomplishments. To keep everything transparent with you, the goal of this report is to show the results for each month even if it's not that great.
I find this especially helpful for new bloggers who have no knowledge and want to see how goals are met. I love reading other bloggers' income reports, and I find it inspiring to see how they progressed from nothing. Hopefully, my blog report will inspire others as well.
You can go to Pinterest right now and type in 'blog reports', and you'll see tons of bloggers make $2,000, $10,000, and even $100,000 each month. Yes, I mean each month. These income reports drew me in and inspired me to start my own so you can see the ups and downs of blogging.
Let's get to the good stuff!
---
March 2021: Traffic & Income Report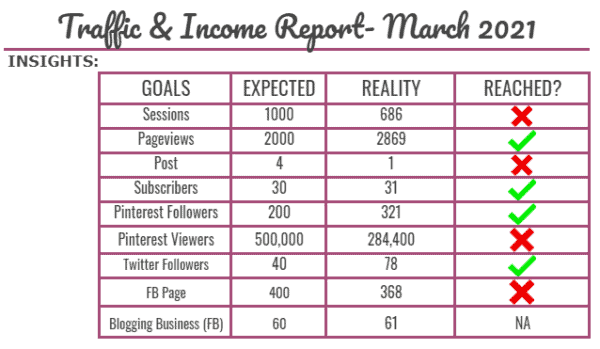 By taking a glance, you would notice that there were more unreached goals than reached. I'm not giving myself a hard time due to the amount of work I have put in this month. I am on the near edge of advertising my graphic design, blog audit, and Pin management services, so I can cut myself some slack here!
Before I continue, head over to my services page and take a look around! For the past month, I've worked until I thought my eyes would fall out. I would be so thankful if you shared, commented, or filled out one of my forms! That would make my day!
Blog Income Report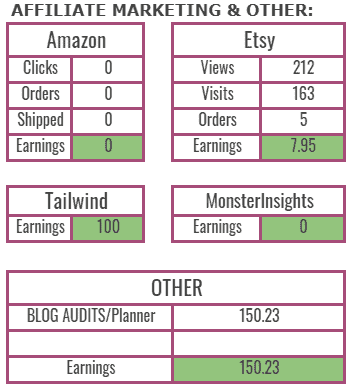 BLOG AUDIT
Who knew that in a middle of a website reconstruction, I would earn $150 in revenue?? Not me. My blog audits have truly kept me busy, and I am so thankful that many bloggers decided to try it out.
My blog audit is geared to helping bloggers increase their Core Web Vital scores to help them rank better on Google. It doesn't matter if you receive 200 or 200,000 monthly viewers to your site. I have seen every side of the spectrum fail their audit.
If you aren't sure if your site is ready or need recommendations on improving your scores, grab a blog audit! I put a lot of research into each blog audit, and I provide you a ton of ways to improve your website.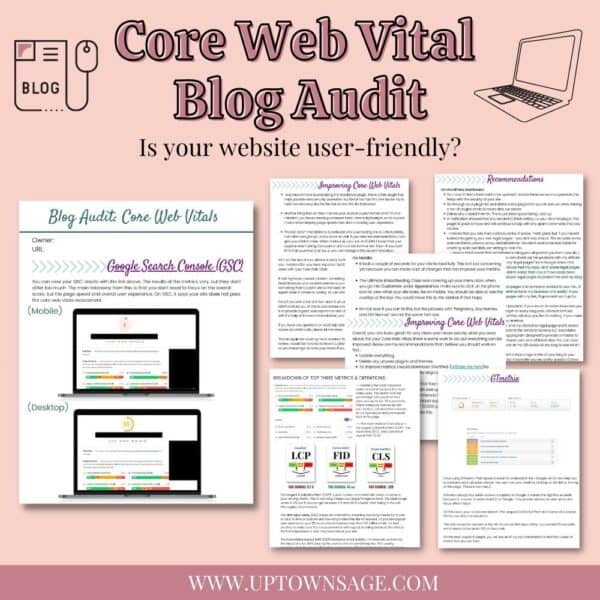 TAILWIND
As a Pinterest Manager, I am an avid supporter of Tailwind. Without it, I don't think I would have the time to assist my clients, operate my blog, or anything that needs to be done. Tailwind allows me to schedule my pins for up to a month, and I can join Tailwind communities to promote my Pinterest pins and so much more.
If you haven't tried Tailwind, you can use this link to receive a free month of the Plus plan ($15 value)!
Tailwind has a SWEET affiliate program, and they offer really cool incentives. So far, Tailwind has been my highest-paying affiliate program. You can add them to your list of affiliates by using ShareASale.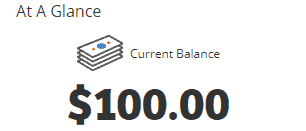 ETSY
Last month, after an all-out complaint party, I started implementing new strategies and adding more products on Etsy. I'm still not 100% for Etsy, but this month was a great improvement.
---
Income Report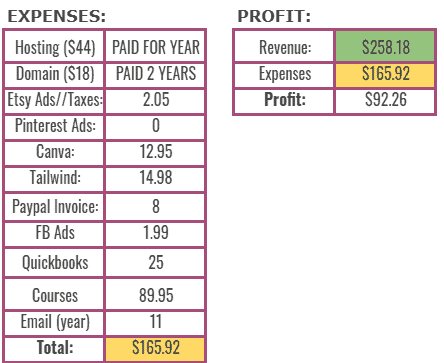 Yay to earning $258 in my fourth month of blogging!! It's not as big as the second month, but we are getting there. 🙂 This month, I was in the GREEN, so that is always a huge plus. I added Quickbooks to keep track of my expenses and revenue, and then I purchased a private email.
If you need a private email, Namecheap is the way to go! I got lucky and scored one of their sales!

Besides the regular expenses, I took another course focused on the virtual assistant side of Pinterest. This course is called VA Ninja and is created by Megan at lovefamilyhealth.com. You'll learn the basics of package creation, contracts, break-up letters, and some Pinterest strategies that she uses.
I highly recommend this course for anyone aspiring to become a virtual assistant. I will be adding it to my tools and resource page soon.
Conclusion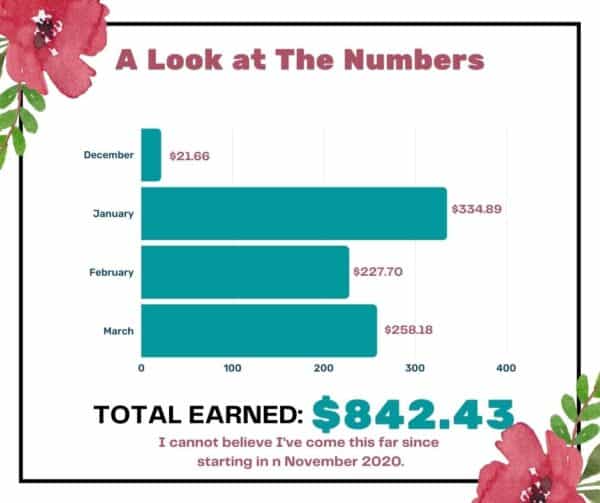 In all honesty, I was kind of on edge about how well I would do this month. Since I only wrote one blog post, I truly thought that my numbers would be awful. Even though I didn't reach many goals, I still think this month turned out great.
After adding up the last four months of blogging, I couldn't believe I earned $842.43!! That is crazy to me, still. My first goal, before starting a blog, was to earn $100 by month six! To surpass that and consistently earn revenue for each month, BLOWS ME AWAY!
I often sit in amazement, but I truly believe that blogging and running my business has lit a fire in my soul. There isn't a day I don't prepare, research, or work on my blog- so know that this isn't an easy route. Money just doesn't come to you because you post an article. (I wish!)
Time investment, learning your direction/brand, and understanding how you can solve a problem for your readers are a couple of the foundational layers of blogging. It took me four months to get a glimpse of all that, so take your time, but always continue to make progress.
If you find yourself struggling or need to ask for some advice, join our growing community at Blogging Business Alliance and subscribe to the email list for amazing tips and tricks to help grow your business!
Until next month,