Pinterest is a great tool to add to your business, but are you using it to your benefit? According to Oberlo.com:
In 2019, Pinterest had 322 million active users, this is significantly larger now.
There are over 200 billion pins saved each year.
Three out of four pinners have discovered a new brand or product thanks to Pinterest.
What does this mean for you?
Pinterest is an amazing visual search engine that can bring an incredible amount of traffic to your blog or website. However, the "overnight success" mentality just doesn't cut it in the Pinterest world. To get noticed, you will have to utilize a personalized Pinterest strategy for your brand and keep a constant pinning presence. That alone can be very time-consuming and stressful, especially if you are trying to build your brand.
Hiring a Pinterest Manager can benefit you and your business by taking the weight off of your shoulders so you can focus on building your brand and following your passions.
When you add me to your team, I will manage your accounts to make sure you are up-to-date on the constant algorithm changes, provide you with a personalized Pinterest strategy to grow your results, and allow you to focus on your passions.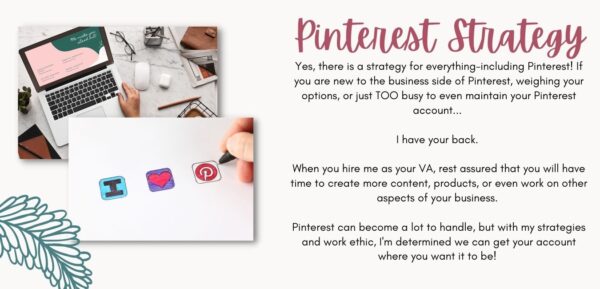 There are three different packages that I offer. Fill out the form below to get started. I will recommend the best package for you after evaluating your website and social media accounts!
---
Do you have a Pinterest Business account, but you aren't seeing results? Grab a Pinterest Account Audit.
---
FAQ's
Why should you hire me?
As a Pinterest VA and Graphic Designer, I offer unique all-in-one packages to help you grow your following, exposure, and traffic. I'm responsive and will never ghost you. I ensure to work diligently and creatively to relieve your struggles
What results can I expect?
Results will vary for each client due to starting factors and algorithm changes. For example, the amount of traffic and growth is varied because it depends on what you have contributed, the age of your account, how active you are on Pinterest, and so much more. The varied results are why I have a three-month commitment and a thirty-day cancellation policy.
Why is there a three-month commitment?
Pinterest is a search engine that has millions of pins created every year. On average, it takes around three to six months to really start seeing results on Pinterest. A three-month commitment is needed to get a good jumpstart of your results.
Case Studies
Take a look at three client case studies. The most important factor in the success of these accounts starts with a solid video content strategy. If you don't have a video content strategy either on TikTok or Instagram, we are more than ready to help you!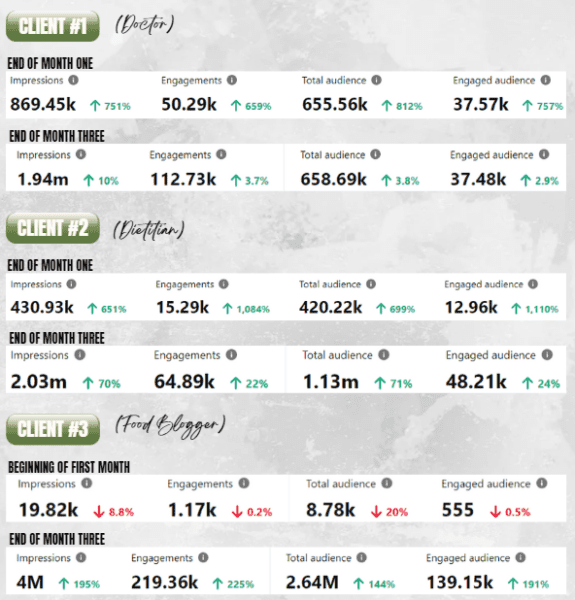 Pinterest Management Contact Form
Fill out the form below with as much information as possible! I will review your Pinterest accounts, website, and other social media accounts to give you the best course of action. My portfolio along with my rates will be added to the email. Thank you so much for taking the time to fill this out. I hope you have a wonderful day!