Blogging Tools & Resources for New Bloggers
Starting a blog is one thing, but how do you find the right blogging tools and resources to build a profitable business from the start? Luckily, you found my page! Below is every resource I use to generate income and growth.
When I first started blogging, I did not have the intention to make any money until at least six months. I remember telling my husband that I'd probably be in the hole for the majority of the first year.
To my surprise, by the end of the second month, I made $334 and was able to profit $250. That flipped my world upside down and I was ecstatic of the progress I made.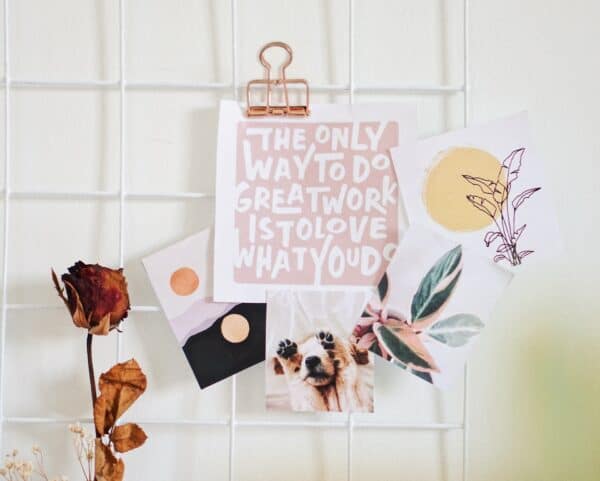 However, I'm not here to sugarcoat my personal results and make you think all of it was easy-breezy. It wasn't. The number one sacrifice I made was TIME.
When I tell you I hit the ground running, I didn't stop. I was close to 40 hours a week the majority of the time. Blogging was new to me and I didn't have any prior knowledge, so I really started from the ground up.
You might be in the same situation, and if you don't know where to start or what resources will actually help you, I got you.
In this article, I've really taken the time to include the top resources that I have found to help me grow. I've waded through the muck and found some gems that every blogger should have or at least know about.
I've done the research and I have put these tools to the test so you don't have to.
I know how it is to be slammed with products that look promising, but the majority are not! So, let's take a look at the blogging tools and resources I use.
---
This post contains affiliate links, meaning that if you choose to click through and make a purchase, I will receive a small commission at no cost to you. You can read more about it–>HERE. I personally use the resources below and have found them to be useful and helpful; I would never recommend anything I don't stand behind.
---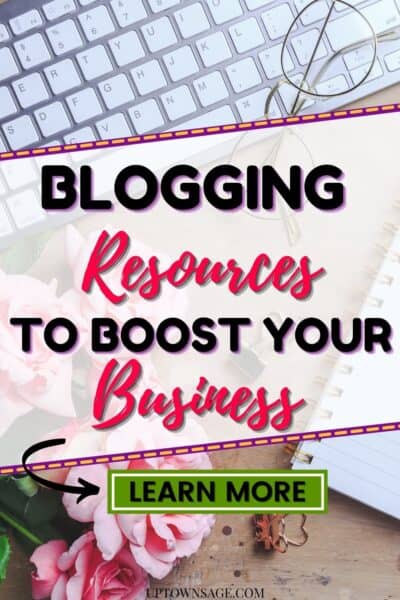 WordPress Resources
There are so many platforms out there that you can use to start your blog. However, not all platforms are created equal. A couple of top blog platforms are WordPress, Blogger, Wix, and several others.
Personally, I recommend WordPress.ORG, but do not get that confused with WordPress.COM.
Basically, WordPress.COM is free to use, but there are several freedoms that are limited. For example, if I was using WordPress.COM, my website address would be uptownsage.wordpress(dot)com.
Also, you can't remove the ads or branding that WordPress puts on the free accounts. More limitations include a limited amount of space and you can't upload themes or plugins.
WordPress.ORG, is also free, but you have to find a host site and register a domain name to install it. This can be a little costly, but it isn't outrageous.
You are responsible for the security and maintenance of your site, so it's best to learn about how to operate WordPress as soon as you can.
Using WordPress.ORG gives you more flexibility, your own domain name, and more control over how you monetize your content.
Summary: If you are sincere about starting a profitable business, choose .ORG, find a host and register your domain name.
You will have a lot of choices when you start your search for a hosting site. I was on a strict budget when I started blogging, so I found a host that was amazingly cheap and suited my needs as a blogger.
I was able to register my domain name for two years and purchased one year of my hosting site for $53. That's it. I couldn't believe how inexpensive it was to start a blog.

If I was smart and not so hesitant on blogging, I would have included at least another year of hosting just to keep the renewal fees away for awhile. Renewal fees aren't terrible, but I love to save money when I can.
Namecheap has been great so far, and I am able to talk to an actual person within no time. They have stellar support!
Akismet
Make sure you have downloaded the Akismet plugin before anything else! This is free to use and protects your site from spam comments, which you will get a ton of.
Theme
When you first start a blog, it is perfectly fine to use free themes. However, it can set you behind on ranking in Google due to your user experience. Most themes are not lightweight and really affect certain ranking factors, like page speeds.
You can read all about the Core Web Vitals that Google implemented to see if your site is user-friendly. This is what will help your site rank better.
The top themes to use that are lightweight, are Astra, Kadence, and several others. I tried Astra, but I hated the simplicity of it. I'm a colorful person, so it didn't work for me.
Right now, I have Honeyglow from Itsdesign. I downloaded it from the Creative Market, which is a fantastic place to go if you are in search of incredible designs of any nature.
I will tell you that when I actually bought my theme, my Core Web Vitals shot up at least 30-40 points. Plus, a paid theme gives you more security versus a free theme.
However, do keep in mind that the points you receive from the vitals don't mean a thing. It's all about your page speed and the user experience your readers receive.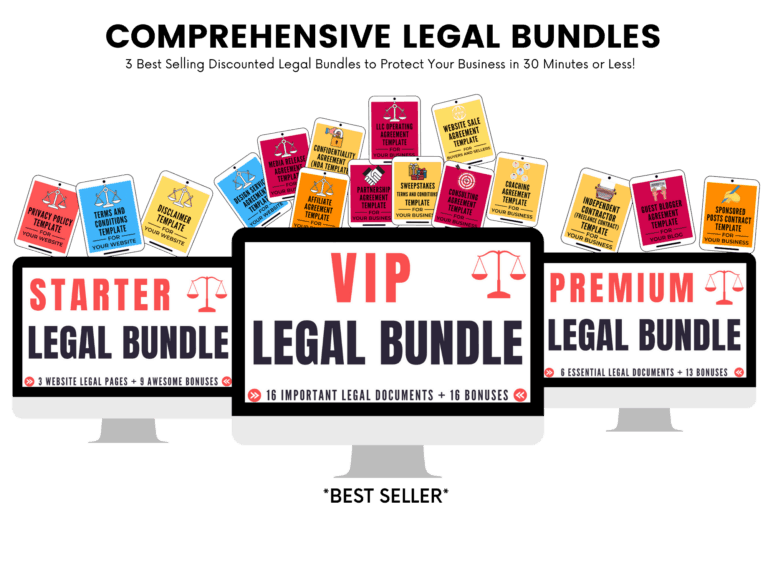 If you are monetizing your blog, you HAVE to have the top three legal pages to be safe from the Federal Trade Commission and hefty lawsuits that come with it.
You can get in a vast amount of trouble if you do not have the legal pages necessary for your blog.
Even if you have a small blog, you need legal pages. One mishap and can put you and your blogging business at risk of a lawsuit.
No one wants that!
To be honest, I avoided this my first couple of months of blogging and put up "duck-taped" legal pages, that didn't protect me whatsoever.
Those free legal templates you find on Google, do not protect you and were not made for you. You could have missing vital information and clauses that you need to have as a blogger.
Luckily enough, I found Amira over at Aselfguru(dot)com who is a lawyer that helps bloggers get the legal pages they need. She does this full-time and is highly recommended within the blogging world.
With each of her legal bundles, you can also score some GREAT bonus templates that you can use in the future!
If you don't have your terms and conditions, privacy policy, disclaimer, and other important legal pages, then you must act fast. This is the number one thing you have to focus on before continuing your blog.
It is a necessary expense that will save you from costly lawsuits in the future, plus Amira does a great job at making her templates user-friendly.
If you use my link to purchase the Legal Bundles that Amira offers, send me a copy of your invoice and I will set the legal pages up for you on your site. I'll do it for free because it is that important.
I wouldn't want all of my hard work to go to waste and I don't want that for you, either.
This is a plugin that will compress your images into smaller files. I was using SmushIt before this, but I've come to like ShortPixel better.
If you read my Core Web Vital article, you'll know how important it is to improve user experience.
If you have large files on your website, it could cause your site to run slow and you don't want that. With this plugin, I bought the 30,000 images under One-Time Credit.
There are monthly plans, but the One-Time-Credit was more than enough for the time being.
Remember, you want your site to be user-friendly (to rank with Google), so it's best to avoid slow site speeds and large files.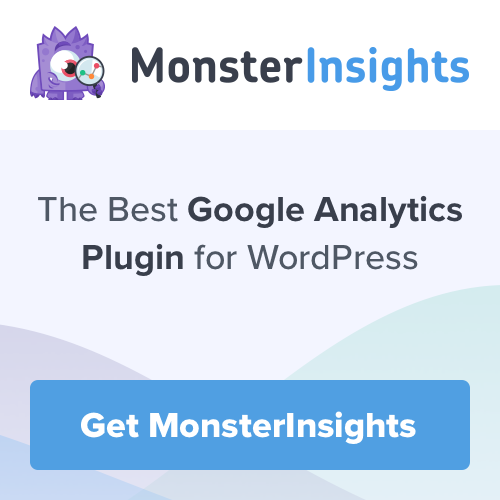 I use MonsterInsights to view my stats on the WordPress dashboard, and I like the convenience of not leaving the dashboard and opening another tab. (I have a lot of tabs opened constantly, it drives me nuts!)
There are a lot of mixed feelings about this plugin, but I've used it since I've started blogging and I love it. For most, the complexity of Google Analytics is hard to comprehend, but with MonsterInsights you know what you are actually looking at.
I'll be the first to tell you that my writing skills are horrendous. Honestly, I've never been great with English grammar. Fun fact, I actually had a higher grade in Spanish in high school and college compared to my English classes!
I knew I had to have extra help, so I downloaded Grammarly to help catch the simple mistakes that are made. Now, it doesn't catch all of them, especially if you are on the free version, but it helps!

Of course, the paid version gives you more ways to improve your sentence structure, but it's up to what suits you better.
I can see an improvement in my writing, so I know that Grammarly has helped.
Other Resources I Love
If you have been on my site, you know that I am SOLD on Tailwind. This tool helps schedule your pins of choice and it is jam-packed with great features.
If you haven't already, you can sign up for a FREE month of Tailwind, HERE.
Ask me about my virtual assistant packages where I manage Tailwind and Pinterest for you to help jumpstart your traffic.
Honestly, I would not have the traffic numbers I have without them. I'm telling you when I say I was so against paying a monthly fee, I was. I didn't think, as a new blogger, I needed to add extra expenses.

Boy, was I wrong! My personal results SHOCKED me. On Pinterest, I had over 140,000 monthly views in my second month of blogging and thousands of engagements, which led to MORE traffic to my website.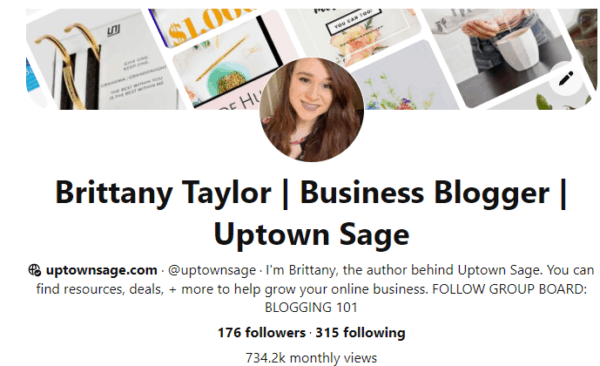 Talk about a win-win!
Digital products are a great way to earn an income and the Canva Pro (they do have a free option) is what I use to create some of my featured images, Pinterest Pins, logos, planners, and more.
I tried a free trial of Canva before I started my blog and it didn't take long until I was hooked! I've created a ton of planners, like my Productivity Blog Planner that you can see below!
---
You can get my Productivity Blog Planner here for $8. Use coupon code: BLOGPLANNER2021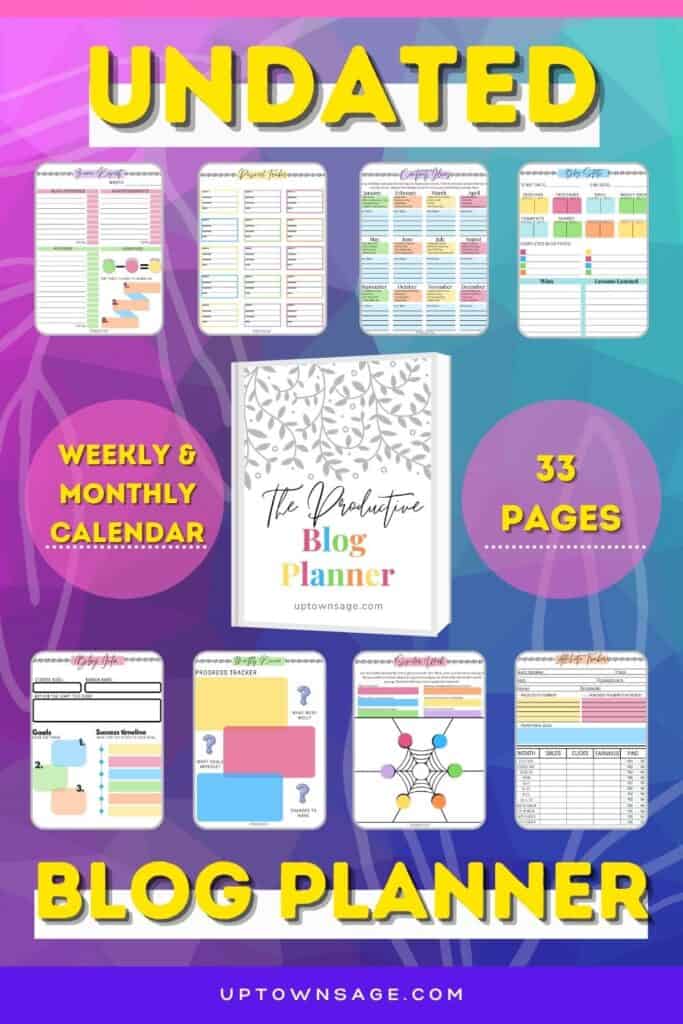 ---
I thought I could manage with the free account on Canva, but nope! Canva Pro gives access to premium fonts, photos, and other elements that I've come to love.
If you lack design skills, I can work with you. I offer Pinterest design packages, logos, and more. Just shoot me an email and we can chat.
I absolutely LOVE this toolkit. There are over 450 templates that you can start using in your business. If you need templates for a planner, logo, or even Pinterest pins, Kara Kidd has your back.
She is a graphic designer and did a fantastic job of creating these templates.
If you lack design skills or want to do the work yourself, you should check out her Complete Blogger's Toolkit. I highly recommend it.
Trello
Trello has been great at organizing and viewing other creator's boards. Most of the courses or products I have used tend to use Trello! For example, Stories that Sell by Nikki Clark, which gives you so many content ideas to engage with your audience.
You could even create a Trello board and offer it as a freebie! Basically, it can be a huge list of sticky notes of descriptions, importance, and more.
LastPass
The clients that sign up for my virtual assistant services have to download LastPass so I can access their accounts. I would never ask for anyone's personal password because that just feels wrong to me.
Luckily, LastPass exists and will allow me to access their accounts in an encrypted form so their password is never at risk. This simply means passwords are never be shown.
It's important to establish trust with your clients. So, if you offer VA services or something similar, I would definitely use LastPass.
I used to use Mailchimp, but I didn't love the interface of their program. It was hard to use and didn't flow very well. After having an issue with their system, I really needed to chat to someone, but couldn't talk to a soul unless I paid for a membership.
That was a big nope.
I didn't like how inconvenient that was, so I switched to MailerLite. You get two weeks of chat support, which is phenomenal, and you can still talk to someone past that time limit, just not as quick.
I fell in love with MailerLite quickly. It has been a game-changer, and it's so easy to use! My signatures are amazing and what they offer within their system is amazing and worth the extra money each month.
New bloggers need this type of email marketing system, as it makes it so much easier to understand without all the unnecessary complications and inaccessibility.
SendOwl is an online eCommerce platform that other creative entrepreneurs use to sell their digital products to services. I've found it to be simple to use and would recommend SendOwl over Woocommerce.
One thing I love about this software is that you can create your own affiliate program, which is awesome. SendOwl is super simple to use, you can view your analytics, create coupons for your products, and more.
Other cool features include:
Instant Money (They don't hold your money until a certain day.)
Monthly Fixed Payment (Instead of taking a percentage of each product sold, you pay the monthly fixed payment.)
Shopping Cart (They make it easy for you to sell a ton of products!)
& more!
Overall, I really like using SendOwl and how user-friendly it is.
Courses I Recommend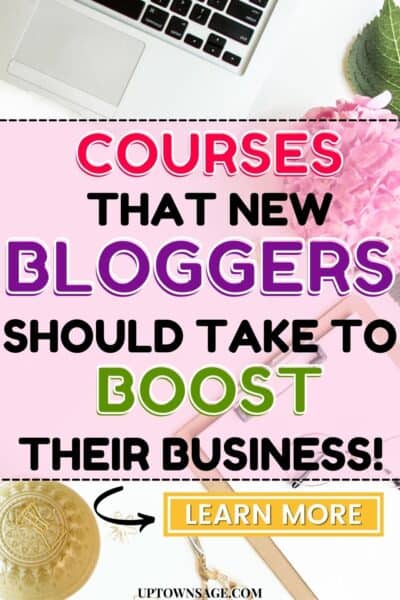 When you start your blog, prepare to take the necessary courses to get you to the next level. This is not optional.
The invaluable advice from other successful bloggers will teach you what you can do to level up in your business.
Here are my top courses (and eBooks) that I've taken. They are seriously AMAZING and jam-packed full of important information to help build a profitable business.
Blog By Numbers was created by Suzi Whitford and is by far the best course that I've seen to help new bloggers get set up. Although it's marketing for moms to start a blog, anyone can take this to gain really good insight.
There are over 140 pages of brilliant resources, detailed instructions, and bonus items to get you set up on the right path.
This free course is amazing and I wish I had found this before I blindly set up my site. Tracie Fobes does an excellent job of guiding you to set up a blog that brings in income!
Tracie has been blogging for over ten years and is a six-figure blogger. She knows what she is talking about and has other valuable resources on her site, too.
Most of the content in this course are things you wouldn't have known otherwise. I would say this is for absolute beginners, but it wouldn't hurt if you were farther along in your blogging career.
Stories that Sell, by Nikki Clark, was a mindset game-changer! After completing this course, I found clarity with how I wanted my brand to be portrayed.
This is extremely helpful for new bloggers who aren't sure which direction they would like to take with their blog. Honestly, I wish I would have found this before I started blogging.
After taking her course, I re-did my entire website in my third month of blogging. This course was that eye-opening.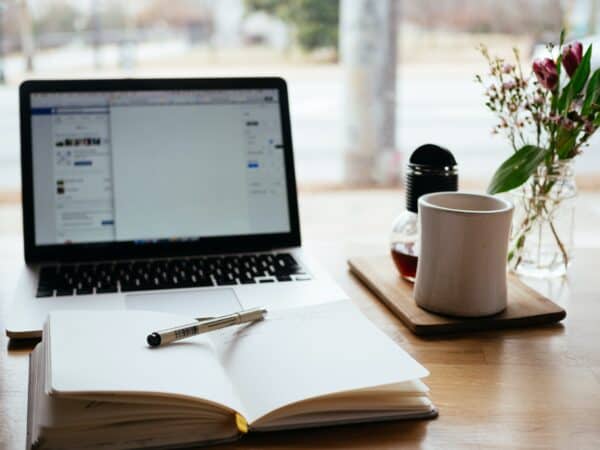 Easy On-Page SEO/Easy Backlinks for SEO
Written by Debbie Gartner, these eBooks will help you understand the basics of SEO (Search Engine Optimization) and how to use backlinks to rank.
Easy On-Page SEO should be the first priority when publishing content as that is what drives organic traffic to your site. Overall, this is what Google looks at when ranking your website and how readers find your site.
I researched SEO for three months and still came out knowing more reading her eBooks.
SEO is super important and if it's not done correctly, you are just wasting time with your blog. Easy Backlinks for SEO will help your blog gain more authority, which will let Google know that you are a trustworthy blog. The higher the authority, the better you will be in terms of ranking.
VA Ninja
Pinterest & VA Ninja was amazing! Megan really lays everything out for a new Pinterest virtual assistant, and I highly recommend taking this if you aspire to be a Pinterest VA. She covers contracts, workflow, landing your first client, and more. With no knowledge of how the Pinterest VA world works, this would be great for beginners!
>> This is what has helped me to replace my income in my old FULL-TIME job. There are great strategies to know and she is super helpful.
Conclusion
There you have it! These are my favorite blogging tools, resources, and courses that every blogger should know about and also invest in.
It really makes a difference learning from different bloggers and implementing the strategies in your own way. If I didn't take the time to invest, I would still be lost.
If you found this article valuable, leave a comment and let me know which resources you'd love to try or if you have tried any of these.
For updates on the website, more blogging resources, and tips you can subscribe to my email list.
Need a business boost? Join my Facebook group Blogging Business Alliance, where you can ask questions and participate in daily promotions to grow your business.
I'd love to see you there!