This post contains affiliate links, meaning that if you choose to click through and make a purchase, I will receive a small commission at no cost to you. You can read more about it–>HERE.
---
Welcome to my first ever Traffic & Income Report!
It's always so inspiring to see the traffic and income reports of other bloggers. Seeing those reports are motivating, intimidating, and just really cool to see where they came from. Before I started this blog, I knew I would do the same to see how my progress goes as a NEW blogger. To me, it's essential to show other aspiring bloggers the good, bad, and ugly of the blogging world!
Considering this is a new blog, I wasn't expecting much, but I did write down several goals I wanted to accomplish. Fortunately, I received some revenue (yay!), but there wasn't any profit due to overhead expenses. On the other hand, my views and clicks on all platforms totaled over 13,645!! I didn't count Facebook views so it had to be over that amount! That calculation made me so happy because I honestly didn't think I would get over 1000 views.
So, let's take a look at this little report!!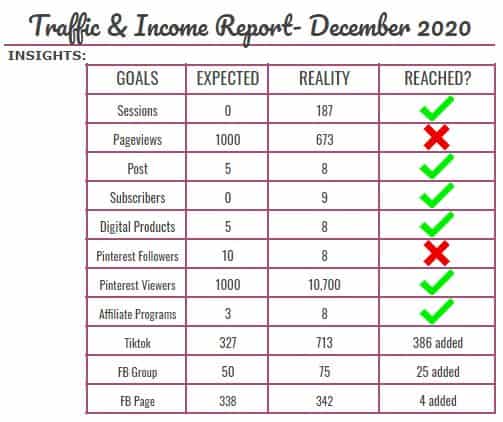 Sessions: A session is an interaction with a user who visits the blog. I wasn't sure what this was at the beginning, so I didn't make a goal for it. It's an odd thing to grasp, but if a person were to read a blog (no matter how many pages viewed), it would count as one session. If that reader gets distracted, then comes back to the blog, then it would count as two separate sessions.
Next month: I plan to put in more time on the blog and promote it more than I did in my first month. I'm thinking of adding YouTube videos to drive more traffic, but we will see.
Pageviews: I wasn't sure where to begin, so I anticipated 1000 pageviews and received 673. That's a good number to start with, so I am not upset at all! Pageviews count any page that was viewed by a user. A user could view 10 pages and it would count all of them. That is why pageviews are higher than sessions.
Next month: I waited a week to announce I had a blog to all of my friends and family. Now, that I am posting regularly, I do hope this number goes up. I am sticking to a goal of 1000 page views, so we will see how month two goes!
Post: Before I started this blog, I had at least 18 pre-made blog post that I had planned on posting. That didn't go as planned because all of the topics didn't fit within this blog. Gradually, I kept adding a post here and there and made a total of 8 posts.
Next month: I have several ideas, so hopefully I can create some quality content for next month.
Subscribers: At first, I told myself I would not start an email list until month two. It's a brand-new blog, who would want to follow me and hear what I have to say? I was so wrong to think that because I had 9 people subscribe to my blog!!! I know what you are thinking, but the 9 subscribers were NOT any of my friends or family. (Shame on them, right?) Fortunately, there are people who subscribed from all over the U.S.A!!
Next month: I'm not sure if I will reach my goal next month, but I'm more than willing to try!
Digital Products: I am glad I was able to create 8 items in my Etsy shop. Etsy is a cool platform that is very well-known in the crafting industry. The downside to using Etsy is the listing and transaction fees. Those fees add up quickly.
Next month: I am working on a New Blogger Workbook that I will publish on my website sometime next month. In addition, I plan to add more items to the shop, such as, planners, stickers, logo designs–SOMETHING!
Pinterest Followers: I did not meet my goal, but Pinterest is huge, so that is expected! Manually pinning, commenting, and signing up for Tailwind has helped me receive followers. It's been a couple of days since starting Tailwind and I can see a difference already.

Next Month: Pray that your girl creates a viral pin! 🙂 In all seriousness, I plan to focus more time on Tailwind and create more pretty pins! Canva and Excel will be the main programs I use.
Affiliate Programs: I was approved for 8 affiliate programs!! It was overwhelming at first, but I am pretty happy with all of my companies! I am still learning about them and I hope to continue to make more revenue. The Amazon Associate program (as you can see below) has been a source of income for me and I enjoyed finding some cool deals for everyone.
I started a Facebook group (Uptown Sage Deals) and I have my own dedicated page for random promo codes. The only downside is that Amazon is not really forgiving, so you have to make sure your content is up to par with their standards. I just hope I did everything correctly!!
I do have a bit of advice for new bloggers and that is to only join 2-4 programs to avoid any additional stress. Also, read the terms and conditions for each company you choose!! Every company is different and some will ban you in a flat second.
If you plan to monetize, I recommend you join the following affiliate programs:
A company you like (Amazon or Canva for designing pins/products)
Tailwind (if you plan on marketing on Pinterest)
Grammarly (Every blogger should be using this awesome software. I am NOT a great writer, so I couldn't write a "decent" post without it and that's why I recommend it so much.)

Followers on TikTok and Facebook have increased, so that is a definite plus!
---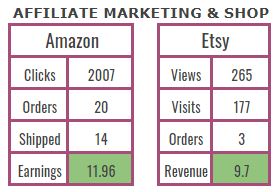 I still have a ways to go, but I am thankful I did see some sales, several views, and joined some great companies to market for. My expenses were mostly for a dvertising, getting set up, and paying for Canva. So, no profit this month!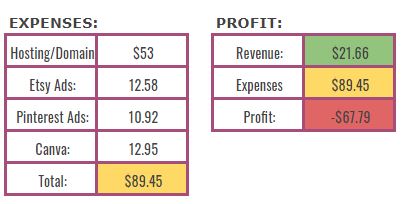 If I were to guess, I'd say that being in the "red" will be the norm for the next couple of months. Making money is not my main goal right now, because I still have a lot to learn and plenty of mistakes to grow from.
I would have been so close to being in the "green" if I had already purchased my hosting site and domain name. In fact, I would have only been in the "red" $14.79!! My hosting site and the domain name is paid up for a year, so I will not have that expense for next month, which should help!
I want to thank you for reading my first Traffic & Income Report! Hopefully, this will give you an idea of what not to do in your first month and to go test out the waters if you are looking to create your own.
In the comments below, let me know how your first month went as a new blogger! Did you see similar results? Did you have better results? I want to know!
Don't forget to subscribe to my email list! 🙂 Ya'll have a great day!
GOALS FOR JANUARY 2021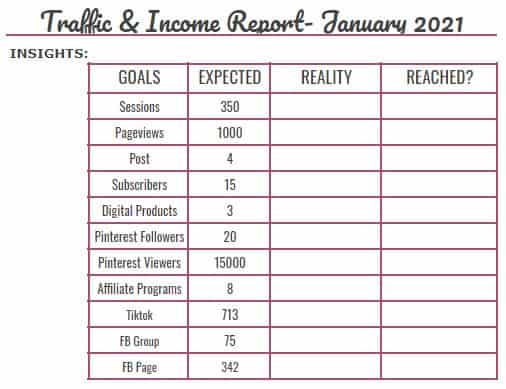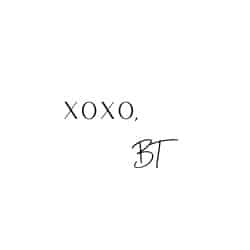 This post was proofread by Grammarly.