Some of the links in this post affilate links. This means if you click on the link and purchase the item, I will receive an affiliate commission at no extra cost to you. All opinions remain my own.
---
Imagine you are tight on money and you are trying to start a blog. You are down to the top two contenders-Namecheap Vs. Bluehost. Who will win?
If you have been researching about blogging, you can easily see that Bluehost is a very well-known web hosting site, but it's a little on the pricey side. We will look over that for now because they do offer some really good options.
Then comes Namecheap. It's within the budget, doesn't break the bank, and it gets the job done. They have been around for a long time and are just as worthy as any other contender.
Keep in mind that we are comparing prices and their packages.
First, I'm going to be real with you. Choosing a great hosting site is one of the hardest tasks when setting up a blog! There are so many options and you can easily be overwhelmed.
Nevertheless, it's a very important decision! You must choose a hosting site that will benefit you and your business needs. This is the foundation to your website or blog, so it cannot be taken lightly.
If you are like me, you want to make the best decision possible without messing up the budget. Namecheap and Bluehost were my top two contenders among several hosting sites I researched.
Before we begin, let's start with the basics. Every great educator lays down the foundation in order to grow from the main idea and we will do just that!
What is Web Hosting?
Think of web hosting as a house where all of your files and information are kept. Web hosting allows you to "rent" your online space and places all of your information on a physical server.
A server allows you to store your files and information on a physical computer without any interruptions. When you operate a blog or website, you want to have the least amount of downtime possible. The more downtime you have the more you lose views, subscribers, and possible business transactions.
Your web host is responsible to keep your website operating and protects your website from malicious attacks.
Self-hosting (this is not for the free platforms out there) requires you to also register a domain name.
What is a Domain Name?
With a house, we know we need an address. This is what a domain essentially is. I chose uptownsage.com for my domain, it is easy to remember and has a meaning to me.
A domain name makes it easier to find your website. Without one, our 'address' would just be a series of numbers.
If you want to know more about domain names, visit the Bluehost website here–> How Domains Work.
When you have a domain name in mind and are ready to purchase one, Namecheap has a great deal usually for $8.88 a year or less!
All About Bluehost
Now, that you know a little background about web hosting and domains, I feel it's best to tell you about Bluehost first!

Bluehost has a massive list of users and is super well-known to the blogging world. When I first started researching blogs, I learned about Bluehost. I joined Facebook groups and studied what they offered and all that jazz. So, I was familiar with them when I finally decided to start my own.
Bluehost was founded in 2003 and offers some great deals with hosting packages. These packages change constantly, so don't be discouraged if the numbers you see below are different.
According to Wikipedia, it is one of the twenty largest web host and has well over two million domains.
For the examples below, I priced the packages at one year due to being super hesitant and on a strict budget when I started my blog.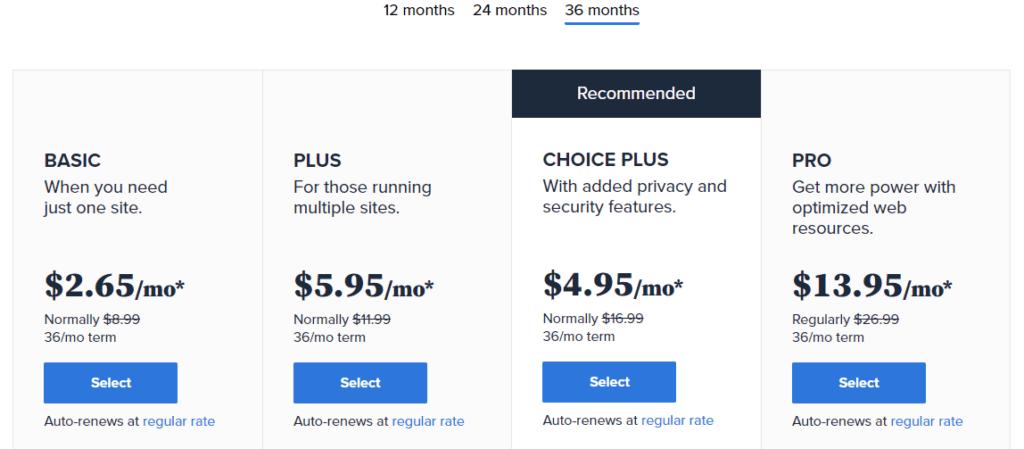 Most new bloggers choose the basic. New bloggers don't need all of the fancier package options, so the basic plan is ideal. Prices do change, but with this current example, it was $2.65 for 36 months which equals close to $143. Depending on the month, you could pay more or less for the packages.
That is a really good price especially for three years!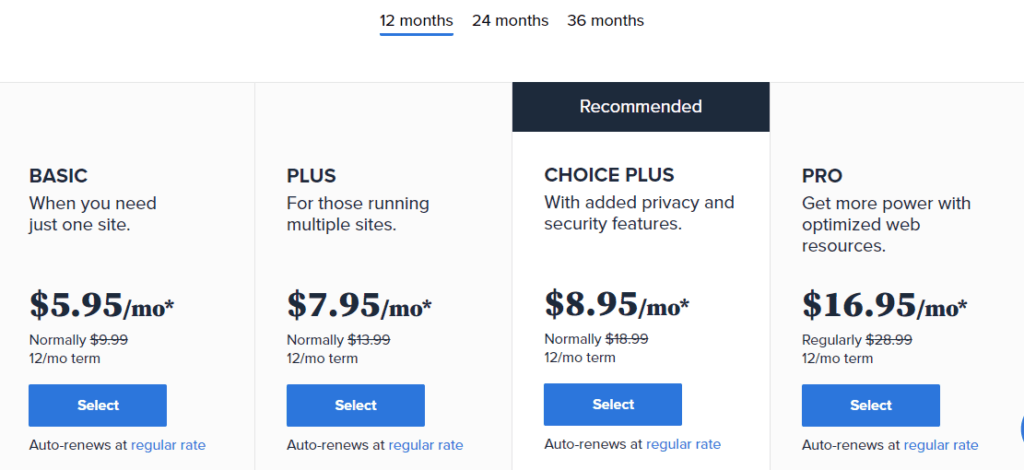 Top Features-Basic Plan
1 Website
50 GB SSD Storage
Custom Themes
24/7 Customer Support
Also Includes
Domain is free for 1 year (another cool feature)
CDN Included for free
Free SSL Certificate
CDN is the Content Delivery Network that stores your information at over 200 locations to keep your website up and running.
SSL Certificate helps keep your visitor and customer data safe. If you look where my domain is located, you will notice a little lock. This means that your information is safe and not susceptible to hackers.
When you go to websites that do not have this lock, then you can accidentally allow hackers and the like to view your important information. You don't want that so MAKE SURE YOU HAVE SSL!
Yes, I'm yelling. Besides, Google prefers that your site has a SSL certificate.
Please note I did not choose the CodeGuard Basic, this allows for backups to your site.
Overall, Bluehost is GREAT! If you would rather have it, you should go for it. Now, don't go holding me accountable because your price tag could be different than mine.
I was looking for a good deal, privacy protection, and an SSL security certificate for my site. The price tag for Bluehost would cost close to $150 to use the 12-month basic plan.
For the 36-months plan, it totaled around $143. So, there were tremendous savings, but it just wasn't in my budget.
Bluehost is still a top contender for a reason.
All About Namecheap
If you haven't figured it out, the web host I chose was NAMECHEAP! Namecheap was founded in 2000 and has over 11 million users and over 10 million domains.
So, what does Namecheap have going for them?
---
First, the price tag.
I was able to purchase my domain for $8.88 a year. I registered my domain TWO years because I thought that it was a great deal. This total was around $18.
I chose the Easy WordPress Turbo and clicked on the yearly billing. This saved me 49% in my first year; the normal rate is $68.88 a year.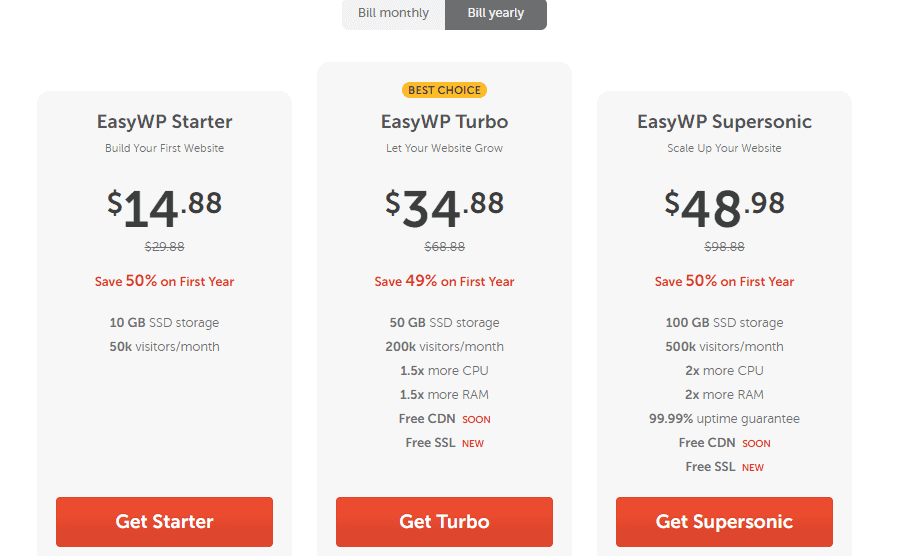 In total, I spent about $53 compared to $150 for the same options in Bluehost. With being a new blogger, this was an amazing deal to have.
You will always have overhead when starting a business and a blog is no different.
Below is based off on 3 years for the sake of Bluehost. This includes renewal fees and all totals are rounded up to the nearest dollar for an easier visual.
BLUEHOST
36-Month Hosting (free domain for one year/$15 after)= $173
Domain Privacy= $12/year (24 months=$24) Free domain for 1st year.
SSL=$36/year (24-Months=$72)
Total=$269
NAMECHEAP
2-Year Registered Domain Name=$18
1-Year Domain Renewal=$13
12-Months of Web Hosting=$35
24-Months Web Hosting Renewal=$138
**Free SSL & Whois Guard Protection
Total=$204
If I did the math correctly, you can see that Namecheap does really live up to it's name.
Second, I chose Namecheap for the Free SSL.
With the Easy WP Turbo, the SSL certificate was included. According to Namecheap, it's important to have an SSL Certificate if you are asking for any personal information. Plus, without SSL, Google announced that it makes it harder to find your site, which impacts your traffic and revenue.
As you can see, it is very important to have if you want to build your business.
You can view a more in-depth explanation on Namecheap-Do I need an SSL.
Third, I chose Namecheap for the WhoisGuard.
WhoisGuard keeps your personal information safe. Anytime a website is started the ICANN requires each registrar to provide the current name, email, address, and phone number. This is sensitive information the internet can possess if you are not careful.
The WhoisGuard hides this information from spammers, marketing firms, and online fraudsters. Instead, the Whois database will display generic WhoisGuard contact information.
Plus, this option is FREE forever!!
Privacy Protection and hiding personal information is also a part of Bluehost, but it comes in a higher package. In my eyes, Namecheap worked for me and what I needed to get started as a blogger.
---
MATCH IS OVER!!
*Ding*Ding*Ding! The match for Namecheap vs. Bluehost is over! Who was the winner in your eyes?
Ultimately, the choice is yours. Both host sites are really great, but today you have seen exactly what pushed me over to Team Namecheap!
If you learned something new, subscribe to my email list, share this page with your friends, or leave a comment below.