Month three of my blogging journey was more learning, changing, and improving than making money. However, I will say that I learned a ton and invested heavily in courses that have given me a boost! If you haven't read my blog reports from previous months, you can below.
---
This post contains affiliate links, meaning that if you choose to click through and make a purchase, I will receive a small commission at no cost to you. You can read more about it–>HERE.
---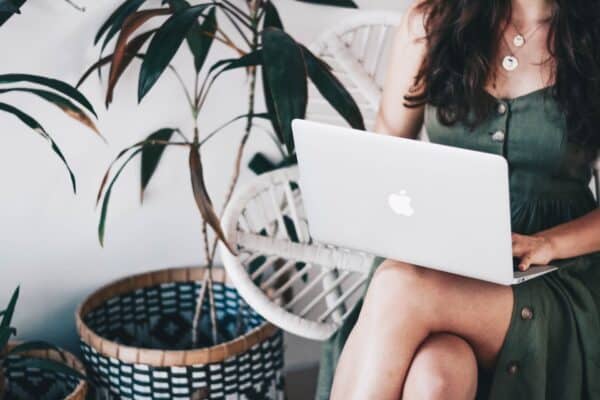 Introduction
If you are new here, I'm Brittany and I started this blog for a ton of reasons; however my top three reasons have to be:
To inspire others to pursue their passion.
For myself, because I needed a creative outlet and a place where my voice is heard.
To earn a passive income for my family.
What does passive income even mean, though? According to Wikipedia,
Passive income is income that requires little to no effort to earn and maintain.
I won't lie to you, blogging is H-A-R-D and I put a lot of time into it. However, if you set up the blog correctly and remain consistent the earning potential is unlimited!
Blogging is considered passive income because you create an article, insert links to affiliate programs (or your own product), and make money for years to come.
Do you need help promoting your business? Join the Facebook group: Blogging Business Alliance
You can go to Pinterest right now, and type in 'blog reports' and you'll see tons of bloggers make $2,000, $10,000, and even $100,000 each month.
Yes, I mean each month. These income reports drew me in and inspired me to start thinking that if they can do it, I can too. I'll be real with you though, I do not set unrealistic goals, because I get discouraged easily.
Building a business takes a long time, especially a profitable one. However, with the right setup and motivation for success, almost anyone could do this.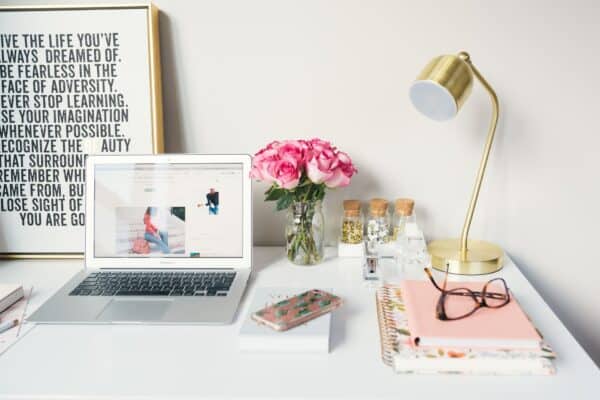 Why am I sharing this report?
Sharing this report is a way for me to track my success and accomplishments. To keep everything transparent with you, the goal of this report is to show the results for each month even if it's not that great.
I find this especially helpful for new bloggers who have no knowledge and want to see goals are met. I love reading other bloggers' income reports, and I find it inspiring to see how they progressed from nothing. Hopefully, my blog report will inspire others as well.
Let's get to the good stuff!
---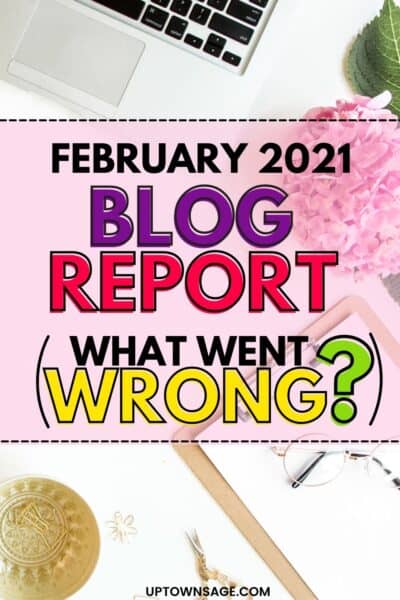 February 2021: Traffic & Income Report
This report is based on January 16, 2021 to February 15, 2021. To get started, I focused more on learning, investing, and changing my website. So, it's not a shocking month like last month, but it was still pretty good!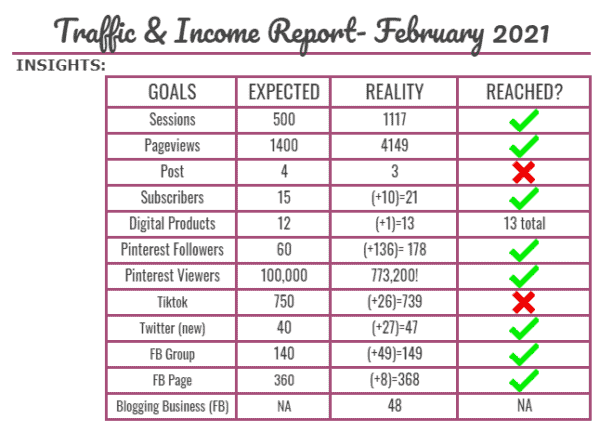 I hope the table above doesn't confuse you. If it does, please let me know in the comments and I'll switch it up somehow.
The Good Part of the Blog Report
Overall, I didn't do as terrible as I thought and in total I had 305 people follow my accounts! I'm making some progress, so that's awesome.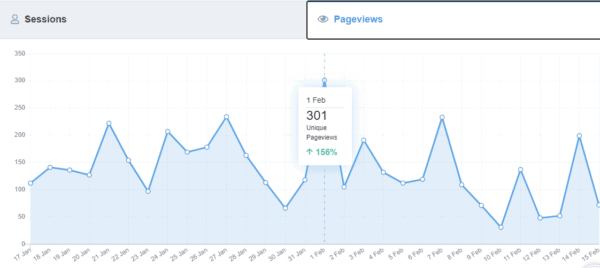 It's still pretty cool to see the peaks and troughs of pageviews and sessions. On February 1st, I had 301 unique pageviews and had 4149 pageviews in total. So cool!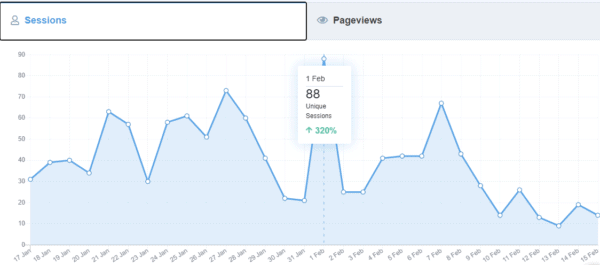 As for sessions, February 1st also peaked high at 88 unique sessions and 1177 sessions in total.
Pinterest keeps blowing my mind and those monthly views are crazy! I promise I did not make a typo. You can see the views below from the snapshot I took from Pinterest.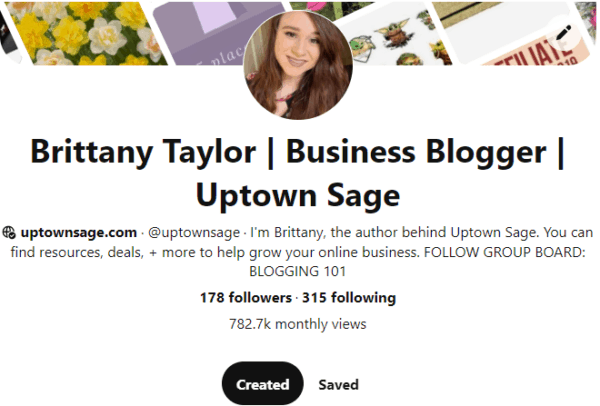 I did end up deleting a page from my website that was taking a lot of time away from creating content, even with my husband's help.
This was a money-making page (at least a little), but it was spammy-looking and was not worth the money for all the time that was spent on it. It was just a page of hundreds of promo links and I was not vibing with it at all.
In fact, I read that Google won't give your site that much credibility if there are hundreds of links in one area. Plus, I actually dreaded the days we had to update links. So, away it went.
Then, I started my NEW Blogging Business Alliance Facebook group. Surprisingly, there are members who participate in my daily promotions to help grow their business.
I'm so happy to find like-minded entrepreneurs, so this if my formal invitation to you. Check out the group, we'd love to see you there!
In the midst of changing my site, I started working on my services page and added my first digital product: Pinterest Pin Templates! They are so cute and I can't wait to promote them some more.
Not only that, I've taken several courses (you can see my course list, here) and I learned a lot about SEO, branding, and more.
If you are needing a free SEO checklist, you can sign up for my email list! All of my subscribers are getting this SEO checklist and it might just have tips you haven't heard of. 🙂 You can sign up to receive your SEO checklist below!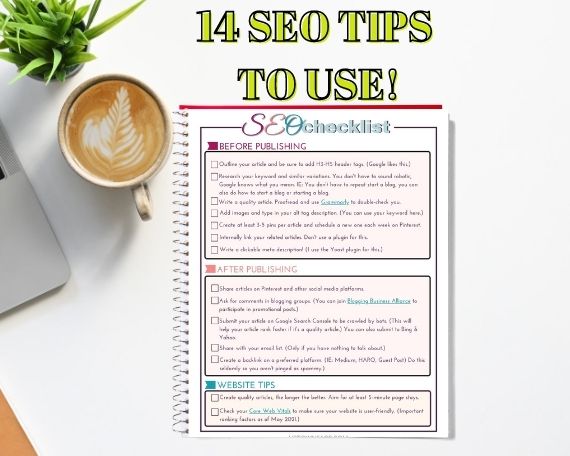 The Not So Great Part of the Blog Report
To simply put it, February was so stressful. I finally understand the quote that new bloggers often hear… "New bloggers usually end up quitting by the third month."
I'm far from wanting to quit, but jeez… this month was a rollercoaster of confusion that could make any person question their sanity! The majority of February, I was L O S T.
My Google Analytics wasn't working right, I couldn't figure out my direction, I didn't write many blog posts (until the end), and I spent WAY more money than I anticipated.
Luckily, I found an awesome tech guy, Denis Brandao, who helped me get on the right track with my Google Analytics code. You can find his website, here!
I'll admit, I was bummed and I hated the fact I wasn't seeing the same progress as I did in January.
My Productivity Blog Planner even flopped. Now, I realize that shouldn't have had my expectations so high and the execution of my launch was horrendous!
I'll be honest, I didn't even have a launch! Haha. I just was just like– here, world! I want you to love my product. As you can imagine, that didn't work out.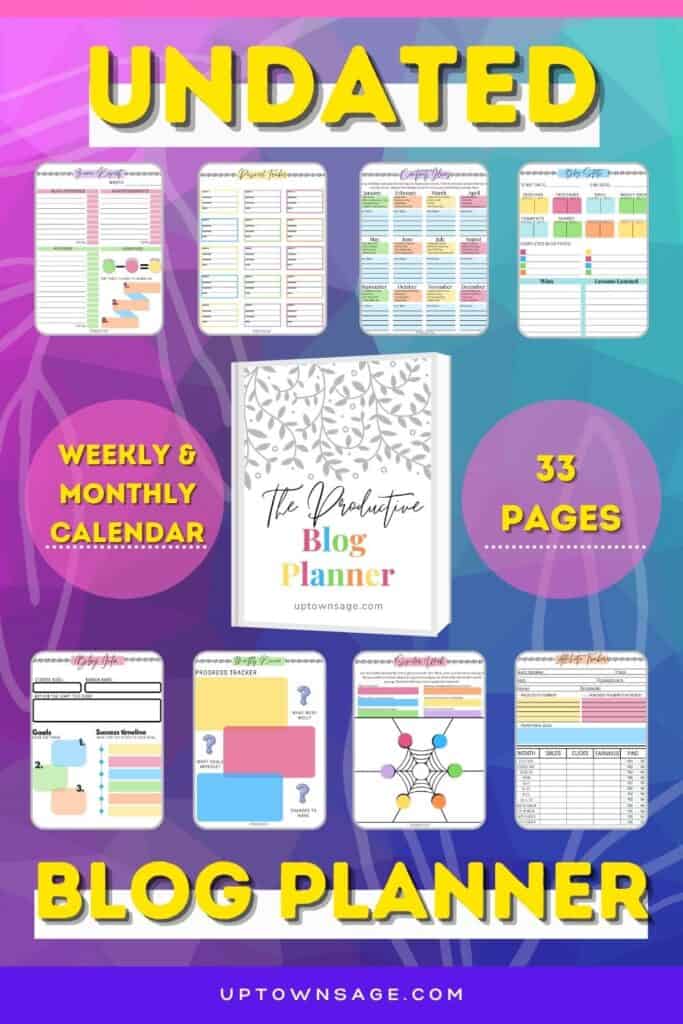 It's an awesome little planner, though. It's actually $8 with coupon code: BLOGPLANNER2021
To make things worse, the advertisement I posted on Facebook for my planner received hateful comments. Basically, they thought I was just an ad spammer, but I'm over here like– HEY! I'm a real person, just trying to get my blog planner out there!
Honestly, I was upset about that for a long minute. I suppose that hateful comments are the norm for the majority of bloggers and it's best to just delete and move on.
What do they know anyhow?
I'm a rock star, not an ad spammer! 🙂
Earnings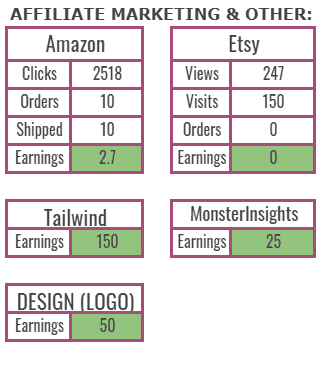 Remember that spammy page I mentioned? You can see how that affected my Amazon earnings. Either people really liked that page, or February was just a low-income month.
Even in my first month of using Amazon, I earned a little over $20! So, seeing the $2.7 was a little disheartening. However, from what I researched, it's expected to see a decrease especially at the beginning of the month.
On to Etsy… I've spent three months deciding if I hate it or not and this month isn't any different. Those stats are so pitiful, it's laughable! I can't say too much about it since I don't work it as I should, but I'll definitely get around to it.
So, I will keep it for now.
Tailwind and MonsterInsights still came through and I'm so glad I have them. They are amazing affiliate partners to work with and you can find them on ShareASale.
Last but not least, I had the opportunity to work with a fellow blogger and hooked her up with a new logo, which was super fun.
My service page will soon have everything I offer and if you are needing a new logo, let me know! I'd love to create one for you.
Income Report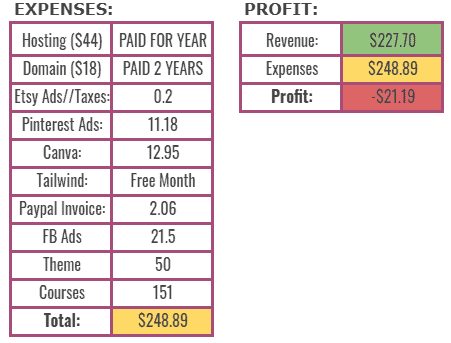 On to the numbers! I did earn $227, but my expenses ate into it a little. After everything was said as done, I was negative $21.19.
Not bad, considering all the courses and extra expenses I accrued. If you are curious about what courses I have taken, you can check out my resource page.
You will also see the theme I purchased above. I tried Astra, since it's supposed to be lightweight and improve page speeds, but I ended up hating the simplicity of it. Nevertheless, my Core Web Vitals indicated I needed to improve my site.
The first thing I did was purchase a paid theme, Honeyglow, which can be found on Creative Market. Design-wise it was exactly what I wanted and it improved my vitals compared to the free them I had
What's new?
In the midst of all these changes, I finally have a vision of how I want my brand portrayed. Finding direction and even purpose is so important, so I'm happy to have some clarity.
If you have been here a while, you'd know my mission is to help other bloggers. So, I also started reaching out by offering virtual assistance with Pinterest and Tailwind.
Basically, I help manage Pinterest and Tailwind accounts for my clients and give them a jumpstart on their traffic.
The client I took on this month didn't have Pinterest, Tailwind, or a blog- so we really started from scratch.
All in all, she has reached over 2,000 monthly views on Pinterest (gained several followers) and received several orders from her shop.
This is all within three weeks, so I'm super excited about the results so far. If you'd like to jumpstart your traffic, you can email me or head over to my services page.
This service is offered to two clients a month, so if you are interested please reach out and see if it's right for you.
Conclusion
Overall, this was a good month. Without this traffic and income report, I wouldn't have seen how much I accomplished.
I've gone from a pretty bummed out state to feeling pretty good with my progress. It's important to keep track of everything you do because even the small steps are still PROGRESS.
It means a lot to me that you took the time to read this and I hope this blog report leaves you feeling inspired or at least curious about my resource and service page.
If you loved this blog report, give it a share, and don't forget to sign up for the exclusive email list to get your free SEO checklist and other blogging tips and advice. 🙂
Until next month,