Hit the bulls-eye with these gifts for hunters! Those who hunt know it's more than just a hobby, it's a lifestyle. With a lifestyle, you know that avid hunters need the best tools to get that trophy buck. Here, you'll find the 16 best gifts for hunters in your life.
---
DISCLOSURE: UptownSage.com is a participant in the Amazon Services LLC Associates Program, an affiliate advertising program designed to provide a means for us to earn fees by linking to Amazon.com and affiliated sites. You can read more about it here.
---
No matter what you choose, these gifts will not disappoint. Best of all, most of the gifts for hunters below can be used on their next hunting trip. That alone will have them pumped up and ready to use their new gift!
Before we get to this list, I want to dedicate this article to my Father who passed away in February 2020, he was an avid hunter and spent the majority of his days hunting and fishing. I know for certain he would have loved all of these gifts!

16 Best Gifts for Hunters|Amazon Finds

The smaller fixed blade knife with a 3.1" drop point blade is more suitable for a smaller survival game. The Gut-Hook Skinner Knife with a 3.7" curved blade is designed for quick and efficient processing of game. And the Boning and Fillet Knife features a 4.7" fine edge blade with 1.6mm thickness which will help turn any fish or meat-based meal into a masterpiece.

With 3 sensors, once detecting the movements,the hunting camera will be triggered instantly in without delay. You will never miss any exciting moments even at night.The trigger distance is up to 20m(65ft).

This rangefinder accurately ranges from 5 to 1200 yards and 170 yards to a flag lock. Provides fast and accurate measurement with +/- 1 yard and +/- 45°accuracy.

bright & highly visible impact with its water-soluble & environmentally safe gel. This target is great for long and short-range Shooting. When you hit the pop pack it will splatter & burst with bright colors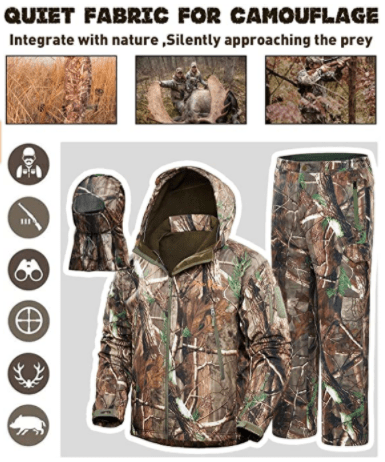 This camo set has over ten pockets, is water-resistant, windproof, and breathable. It is a very sporty and really nice looking jacket for camping, hunting, hiking, fishing, and other outdoor sports in the windy weather.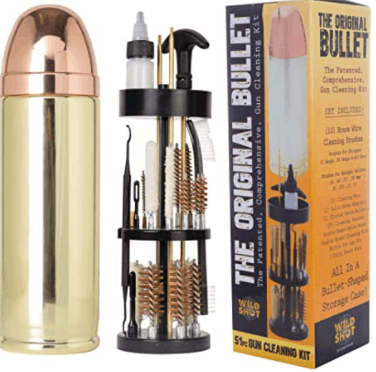 This bullet-shaped kit features 10 brass wire brushes for cleaning 12 Ga, 20 Ga and .410 bore shotguns; and .45, .40, .357/.38/.9mm, .30, .270, .22, and .17 caliber firearms.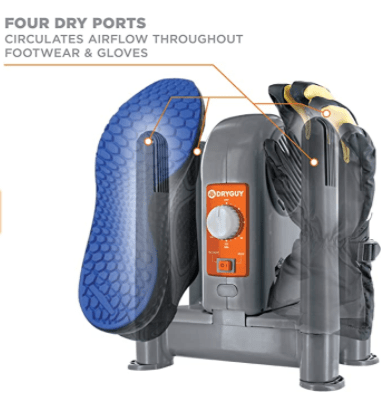 This machine includes two removable extension tubes for use with boots and garments. It is has a whisper quiet rotary blower, has a three hour timer, and you can use heat or no heat. The DryGuy helps eliminate odors and reduce the growth of mold.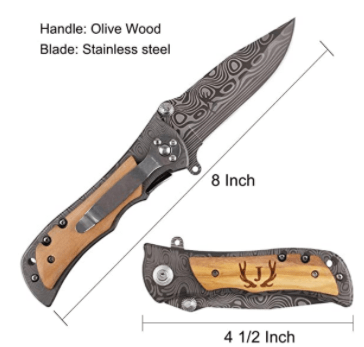 Choose any initial to go alongside a set of horns. This blade measures 4.5 inches with an additional 3.5 blade and comes in a gift bag.

This bad boy has 1000 lumens and has a focus feature where you can zoom out up to 250 yards. Go watch the video, it's super cool!

The weather plays a big role on whether you can spot deer. You can use this tool to help you forecast if it will be a lucky day or not!

This is a best-seller on Amazon right now. This design allows you to adjust sounds for a buck, doe, or fawn in an instant. There is even an app "Deer Society" where you can have access to hours of educational videos.

With this item, you can make the hunting trip easier without carrying bulky cases. This has a place for two rifles and two storage pockets to put bullets in or whatever you choose.

This deer game cart is made of heavy-duty steel, which is super durable and strong to move big in hunting game. It can really save a lot of energy than moving 500 lbs trophy manually for providing easier transportation.

What hunter doesn't love some homemade deer jerky? The food dryer machine dehydrates beef jerky and fruits for your family, make healthy and inexpensive dog treats, dry herbs for storage. Package includes the recipe book.

RHINO Blinds are easy to set up and takedown – with a little practice setting the blind up can be accomplished quickly in as little as 60 seconds once the blind is out of the carry bag.

Nothing is worse than a backpack that holds moisture and causes you to sweat. The breathable fabric on our Backpack helps keep the backpack dry and scent-free. Innovative shoulder-grip design provides cushioned comfort.
Set Your Sights & Hit Your Target
That's it for the gifts for hunters! Let me know what you found and if you have any suggestions in the comments below.
If you liked this list, you can view gift guides for gardeners, valentines for her, and toys every 90s kid wanted.
Don't forget to sign up for the exclusive email list to be the first to know with what's happening on the blog.