First things first, I am proud to announce that this Valentine's Day gift for him list has a special stamp of approval! Ladies, if you struggling out there and you need a gift for him, know I have you covered! Especially, if you need a gift that will make him smile!
This list is different from others because the special stamp of approval is under each picture.
So, where do I get this approval?
My husband, Michael, of course! He searched for hours trying to find neat gift ideas for Valentine's Day. He is new to the blogging world, so give him congrats in the comments if you found something you like.
So, let's get this gifts for him list started! 🙂
---
DISCLOSURE: UptownSage.com is a participant in the Amazon Services LLC Associates Program, an affiliate advertising program designed to provide a means for us to earn fees by linking to Amazon.com and affiliated sites. You can read more about it here.
---
16 Valentine's Day Gifts for Him

Michael: "Every guy needs a beard grooming kit, if they have a beard, so they can look good, clean, and sexy for their woman."

Michael: "This is great for doing projects around the house. All you would have to do, is stick the nails to the wristband so you don't lose them."

Michael: "You never know what you will run into when you are out and about. A survival kit is necessary."

Michael: " This is good for hunting when you are getting ready to go to the deer stand before daylight hits. You could also store this in the vehicle or at the house when you need an extra light.

Michael: "What man doesn't need a good grill set??? This is great for the spring and summer time to cook those good meals for the family."

Michael: " You can show your guy that you care by getting a wallet like this. He would be reminded every day that you love him. Honestly, when is a guy without his wallet??"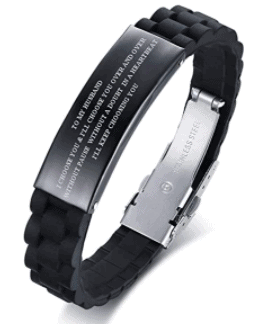 Michael: "For the guys that like to wear bracelets, this would be a way to show him how much you appreciate him. That, and it has a nice, clean look."

Michael: "Any novelty coffee mug will do, especially for big coffee drinkers. I don't think there could ever be enough coffee mugs around the house. It could be because my wife only lets us have FOUR!!"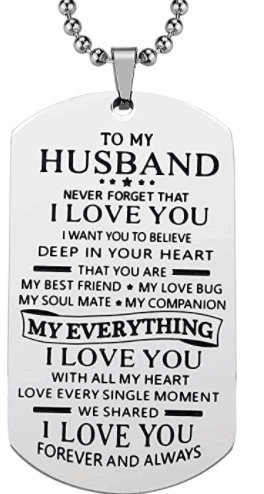 Michael: " This gift would be great for the military guys who are used to wearing dog tags. It has a special meaning that they could wear always."

Michael: " I am a man of routine and this gift is great for everyone who likes to keep their items in one place before they go to bed. In the morning, it makes it easier to grab and go. Plus, this has that nice sleek wood grain that guys like."

Michael: "I'm just going to say this. What man doesn't like snacks???"

Michael: "I think I may be giving my wife a hint! On a serious note, having different coffee choices to choose from would be cool."

Michael: " Who wouldn't want a beanie that is 2-in-1? You'd get to listen to music and keep your head warm. It's a win-win!"

Michael: "I mean, if a guy doesn't want to go to the gym or go on a run they need to have options. Resistance bands get the job done. "

Michael: " After a long day at work, a massager is essential. Like, it's an absolute must."
Gifts for Him Review!
Brittany: That was definitely different for a Valentine's Day list! I hope you enjoyed reading Michaels' stamp of approval of the gifts for him, I know I did. He put a ton of work in and I'm super proud of him.
If I learned anything, I need to stick with coffee-related gifts for Valentine's Day. 🙂 So, this list is great for both you and me. I should probably have him find the next list for birthday ideas.
I hope you found something you liked on this Valentine's gift idea list, let us know in the comments. You may want to check out our other gift guides, too!
Don't forget: Share, tweet, or pin this article!