Before I even started my business, I had a personal Pinterest account. If I needed an idea or inspiration, Pinterest was my automatic go-to. From a consumer standpoint to a business mindset, I knew I needed to adopt Pinterest marketing strategies to help my new blog grow.
The thing with Pinterest is that there isn't a strategy that fits all. In fact, the Pinterest algorithm changes so much that it can be hard to keep up. When I first started using a Pinterest Business account, it was recommended to pin around 50 times per day, pin 80% of others' content and 20% of yours, and repin your content to a different board here and there.
I always thought 50 pins was too much, so I dropped my pins down to 20 per day. Five months later, the new strategy is to pin less than 20 pins, only pin your content (unless you are a brand new account), and never repin. I honestly wouldn't be surprised if the Pinterest strategies are changing as I type this.

These changes can be overwhelming, so I always suggest outsourcing to a Pinterest Manager to give you peace of mind while you focus on your business.
However, if you aren't ready to dive into Pinterest management I've outlined the basics of Pinterest and some marketing strategies for new bloggers and online businesses. Let's get started!
---
This post contains affiliate links, meaning that if you choose to click through and make a purchase, I will receive a small commission at no cost to you. You can read more about it–>HERE. I personally use the resources below and have found them to be useful and helpful; I would never recommend anything I don't stand behind.
---
Pinterest Basics for New Bloggers and Online Businesses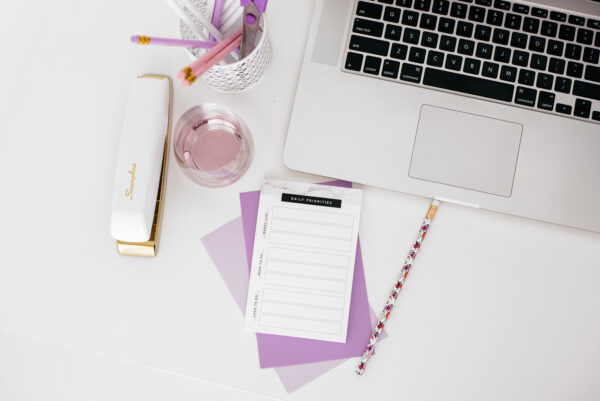 Why should you use Pinterest?
Pinterest is a visual search engine that you can use to amplify your business reach. It is a free platform where you can gain ORGANIC traffic. Every website wants organic traffic as it is free from advertising programs. If you have SEO-optimized and quality content, then Google and other search engines (including Pinterest) will rank your items. The higher the rank, the bigger the reach.
There are over 400 million active users on Pinterest that search for products, brands, or other inspirations to try. It would be crazy not to utilize this as a marketing strategy for your business.
Who can use it?
Pinterest is used by established or name brand businesses, bloggers, Etsy sellers, and more. If you have a product, service, or idea you can definitely use Pinterest. It goes without saying… you promote explicit or spammy-sensitive topics.
This will put you in Pinterest jail quicker than you can blink. Ultimately, that means your account will be suspended. You can read more about their guidelines, here.
How do you use Pinterest?
This is pretty self explanatory one you get into the platform, but there are several different ways to use Pinterest to market your items. It all starts with a pin, which is a visual image of content.
When you search something on Google, you see links and snippets of each post.


With Pinterest, you get a image, known as a pin. When someone clicks on that pin, there is the same kind of information that you would see on a Google search.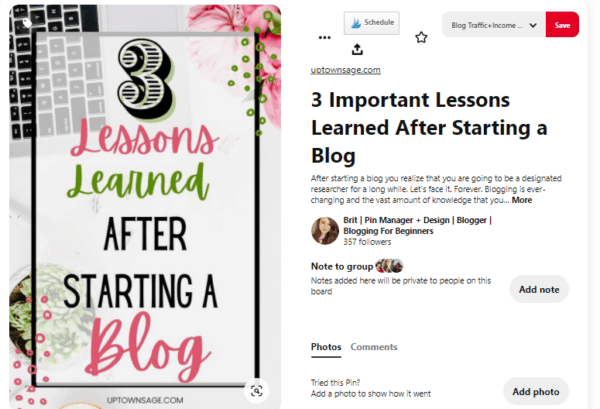 See, same stuff. Different layout.
When you get ready to start your Pinterest Business account, you will want to follow these three steps!
Optimize Your Profile

You will need to claim website, Etsy store, apply for rich pins, create boards related to your business, write a killer bio description, and use a picture of yourself or a logo.

Use Keywords

Research relevant keywords and place them in your bio, pins, and board descriptions. This is how you get that organic traffic we talked about.

Create Pins

There are several different ways to create your pins to promote your products and services. This is where it's time for you to shine and let people know why should visit your site. You can create:

Standard Pins
Animated or Video Pins
Story Pins (kind of like Instagram)
Carousel Pins (where pinnners can flip through your content)
Don't forget to make your pins scroll-stopping! 🙂
How do you make pins?
Not everyone can make pins and some just don't have the time. When making a pin, there has to be some kind of design skill that you have learned over the years. Don't worry, though! There are several options that can help you with this process.
This is my favorite program. Not only do you have access to a crazy amount of design options, but you can also create ANYTHING and EVERYTHING you need for your business. This includes eBooks, Instagram posts, flyers, logos, and so much more.
The best part about Canva is that you can take the guessing game out of using the right sizes! Below you can see the standard size Pinterest pin.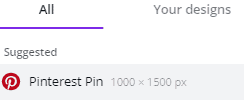 Other programs like this is PicMonkey, Crello, RelayThat, and so much more. I like Canva because it is easy to use, the designs are amazing, and I can resize and make anything that I could ever want in one place. There are free and paid versions of Canva; I have the paid because I needed it on a larger designing scale than what the free version has.
PowerPoint
I have never used this, but it is an option that many other bloggers use. If you know the size of the pin you want, you can create just about anything on there. I say this because I've created a digital journals on PowerPoint before, so I know it is capable!
Tailwind Create
Tailwind is awesome. No matter how many algorithms occur and cause it to decrease in popularity… it is still a solid program that I have loved since day one! Tailwind is an automated scheduler where you can schedule up to a month's worth of pins. They also have really great Communities where you have an extra chance to promote your pins.
They also have a handy tool where they make a ton of pins for you using Tailwind Create. All you have to do is insert you blog post URL, change the title if you want, pick out some colors and images, and BAM that's it!
Other than choosing and perfecting your pin, you have access to a lot of cute pins and it makes the design time faster. Even if you don't use the scheduler, Tailwind Communities and Create and worth having.
Outsource It!
If you aren't design savvy or have no time to create pins, you can outsource this! For example, if you need every blog post revamped with a new pin or pins for you newest blog post, you can purchase one-time, weekly, or monthly pin creation packages.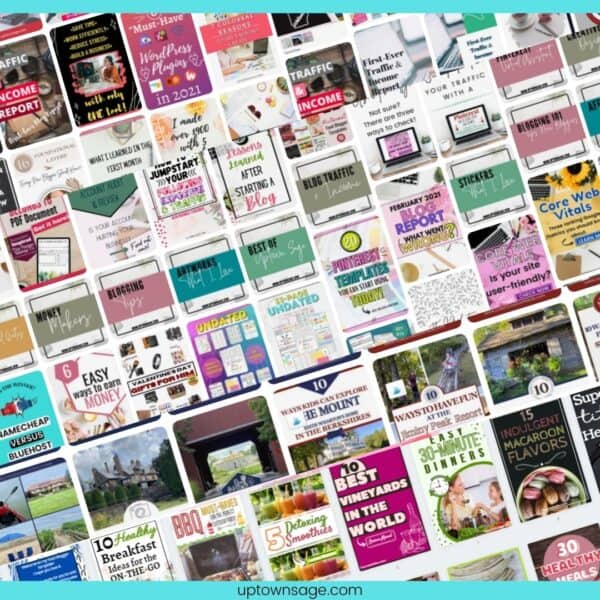 Talk about amazing, huh? Pin Creation packages will allow you to focus on creating more content for your business. If you need help in this area, I would love to create pin for you or even set you up on a weekly or monthly plan!
I create over 100 pins a month for clients, so available spots are limited! If you would like to see if a spot is open, don't hesitate email me or fill out the form on the my Pin Creation page.
Tips and Tricks
Below are some simple marketing tips and tricks to use on Pinterest. They won't give you the full perspective, but will help give you an idea on where to start.
If you have started a Pinterest Business account and you think you are missing something… grab a Pinterest Audit and I'll review your account and give your tips that you can utilize to help give you a boost!
Post to Pinterest daily; you need to be an active user. If you started an account and you haven't messed with it in a while, it's basically a new account. You will need to work your way up again.
Allow three to six months to really start seeing your results. Pinterest is slow-growing, but the shelf-life of a pin is a lot longer than other platforms.
Don't use one strategy and think you are golden. Mix it up. If something isn't working, change it.

If you have no idea where to start, a Pinterest Audit can help.

Do not ever repin your content to a different board.
Switch up your photos, colors, and fonts on your pins. If you don't, it's been said that Pinterest thinks it's the same pin. (THAT'S AS BAD AS REPINNING!)
Promote your account using Pinterest advertising. When I first started, I was offered $60 in credit when I spent $10 of my own money. This was incredibly helpful.
Use long-tail keywords on everything, you can use the Pinterest search bar to help you with this!
When in doubt…
If you are ever in doubt that you set up your account incorrectly or you need guidance, you can also grab a Pinterest Audit. For my audits, I go over your entire account to check for ways that you can improve. If you are utilizing old strategies, I'll provide you the new and improved ways to promote your pins!
I'll be honest, Pinterest can be a little much, at times, here is a couple of examples to let you know when you need to invest in a Pinterest Manager.
You don't have the time to learn how Pinterest operates.
You are putting in the effort, but aren't see any results.
Your account needs a boost after a new algorithm change.
You are tired of managing your Pinterest account.
You need someone who will help you reach your goals.
You like Pinterest, but cannot keep up with the recent changes.
You would rather focus on your business than marketing efforts.
If you are curious about Pinterest management, let me know by emailing me or using the contact form on the Pinterest management tab under Services. 🙂
Don't forget to join Blogging Business Alliance to promote your blog and ask questions. We would love to see you there!