Building a blog is extremely do-able, but there are so many learning curves for new bloggers, and planning should not be one of them. I have you covered in that area with an undated Productive Blog Planner.
I'll be the first to tell you, that if you do not have a plan, it's hard to stay focused. This planner will help gather thoughts, ideas, and track multiple resources that every blogger needs.
If you want your blog to become a profitable business, you must first become organized and productive with your time.
So, if you are a go-getter and you're ready to tackle the blogging world at full-force you'll need this planner to help get you started.
What's in the Productive Blog Planner?
This planner includes 16 different planning pages to help you become more productive.
In total, there are 33 pages, which include the undated monthly and weekly calendars that you will desperately need.
---
Use the "BUY NOW" and highlighted links to take you to SendOwl where you can purchase the planner!
---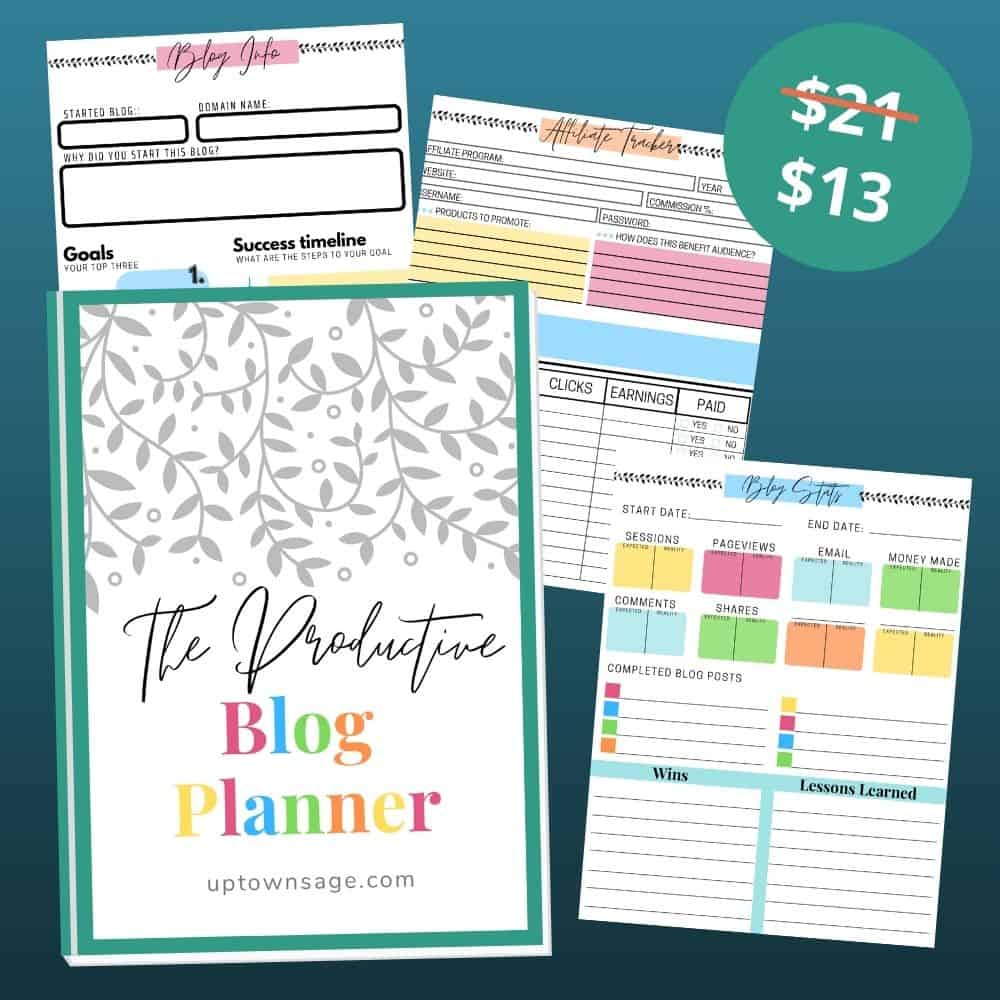 You can print these pages as you need them at any time of the year.
Blog Info
Monthly Goals
Content Ideas
Blog Post
Affiliates List
Affiliate Tracker
Extras
Password Tracker
Article Idea List
Tasks
Undated Monthly Calendar
Undated Weekly Planner
Monthly Review
Blog Stats
Income Report
Spider Web Method
---
---
At the end of the planner, I have listed my FAVORITE resources that have helped me generate an income with this blog. Need some facts? You can read how I made a profit in my second month of blogging, here.
Keep in mind, I had no prior knowledge of running a blog and I was lost and overwhelmed.
After my first month of blogging, I filled out an ENTIRE 70-page notebook (front and back) and it hit me… I need a planner!
As an extra, this planner also includes two courses that you must take if you are a new blogger. They are FANTASTICALLY made by two very successful bloggers, so you will want to check them out. (Psst. One is completely free and is called the Profitable Blogging Roadmap.)
Are you still not sure about it?
Below are two reviews from Priya and Madison when they received their copy of the Productive Blog Planner.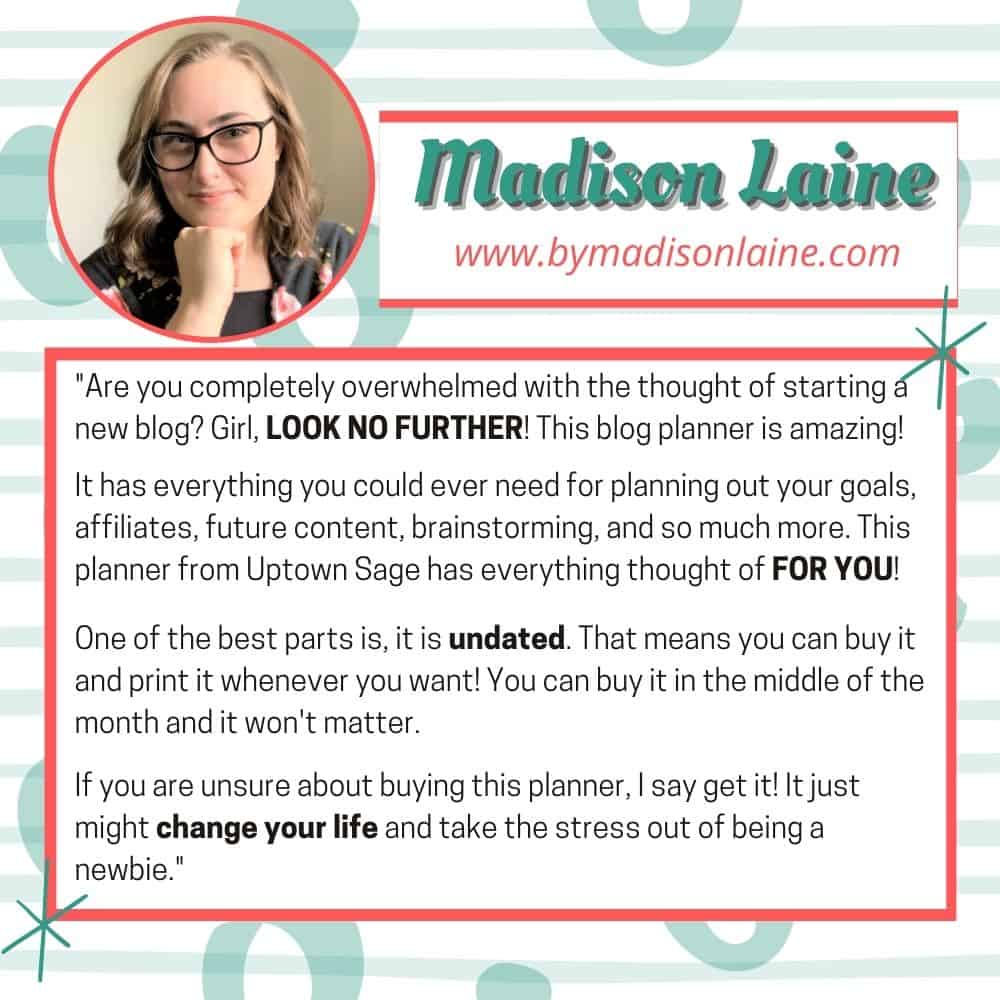 They both give SOLID reasoning why this planner is for you. Honestly, I couldn't have said it better. They really knocked it out of the park!!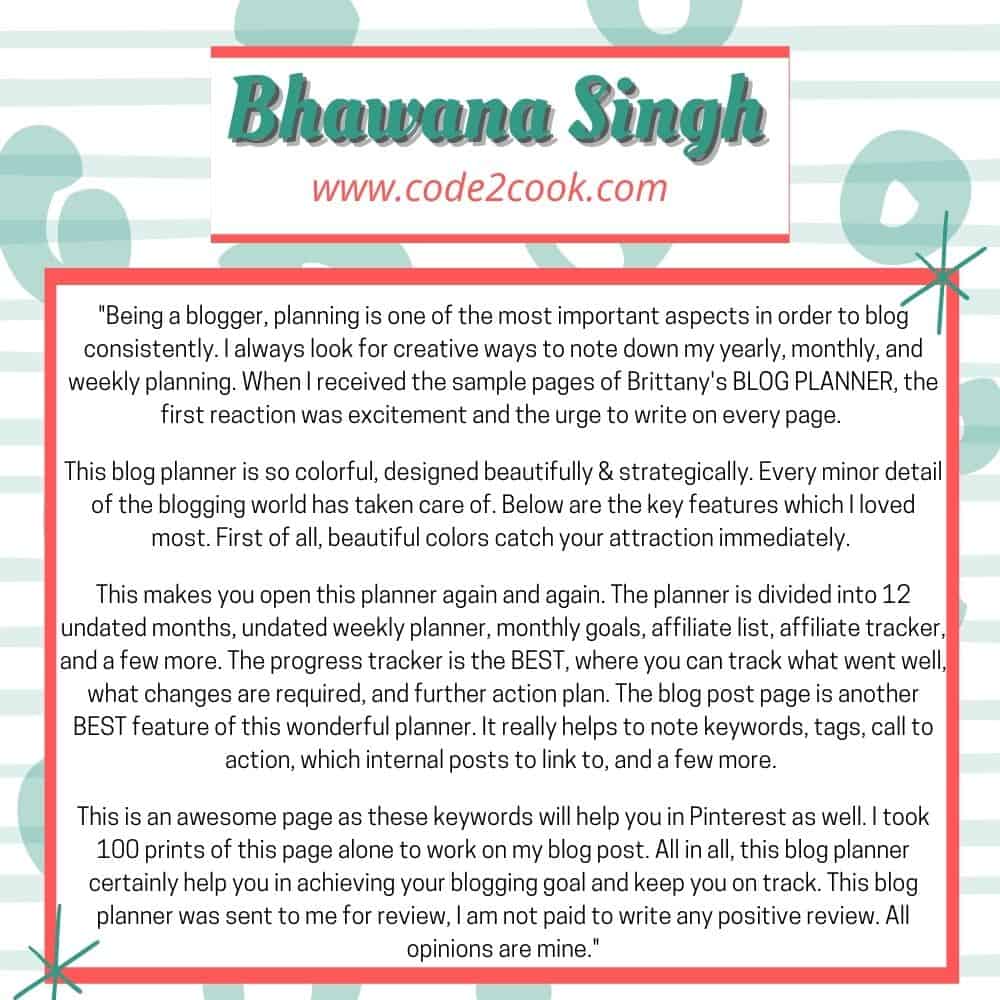 ---
---
This is a digital product that can be printed at any time of the year. Due to the nature of the product, there are no refunds. However, if you have any issues with the planner itself, please let me know.
Once you get your copy of the planner, go join the promotional blogging group, BLOGGING BUSINESS ALLIANCE. In this group, you can participate in daily promotions to build your blog and followers.
If you have questions, post them and we can help you out! Remember, you are not alone in this journey.
Share this planner with others and don't forget to subscribe to the blog for more!
---
Use the "BUY NOW" and highlighted links to take you to SendOwl where you can purchase the planner!
---