With two years to go before I reach the big 30, it must be time to put together my first ever bucket list. This list is mostly realistic with a couple of items that may be a little difficult to obtain, but it doesn't hurt to list them! It will be so much fun to come back and mark items off this little bucket list.
If you are here for a free printable, hopefully, you can get some ideas off my list to start your own. 🙂 I also made this printable available for all ages so no one will feel left out! All you have to do is insert the age you want to use and ALL the things you want to accomplish!
So here it goes…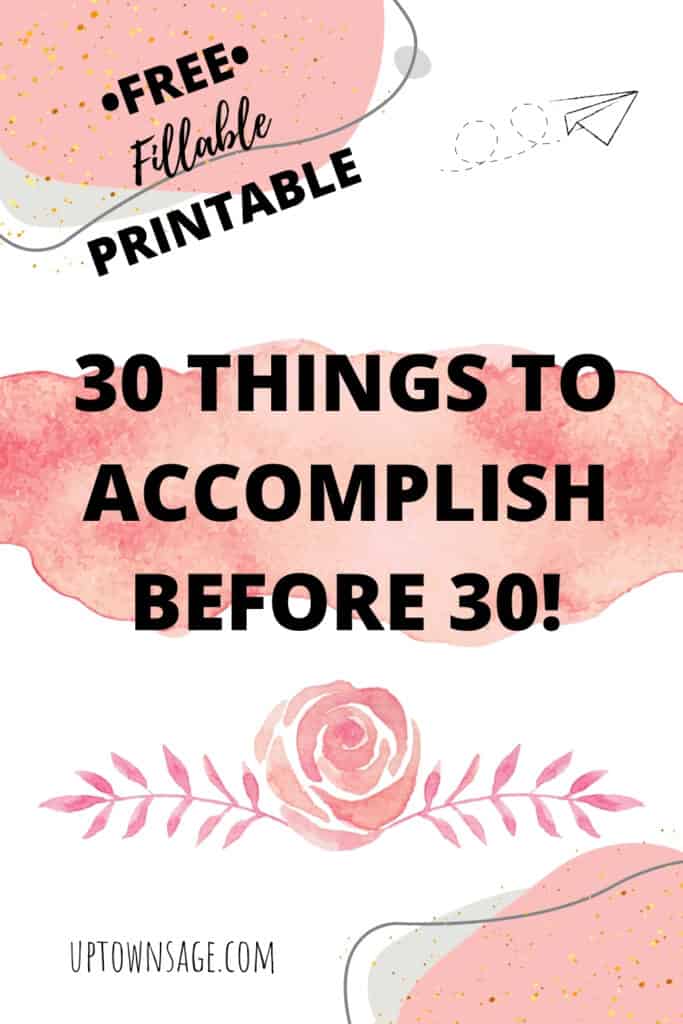 30 Things To Accomplish Before 30!
Take a trip to the West Coast. I want to re-visit Colorado, check out Wyoming, start in Oregon and go straight down to the most visited National Parks.
Travel out of the States. Anywhere. I just want to GO!
Have savings. I want at least a $10,000 emergency fund.
Buy land to eventually build a house. City life is cool, but I want some space & to get away from the neighbor dog who barks at everything and anything! *insert eye-roll*
Take a kickboxing class.
Find out how to get a replacement Cherokee card. Someone stole my card when I was a teenager, and I would like to set some time aside to get it back.
Go to more concerts. I've always wanted to see the Red Hot Chili Peppers, Fleetwood Mac, and maybe even throw in The Hu. It doesn't matter. I just need to go!
Be able to say that I am successful.
Not worry about finances AT ALL.
Forgive and let go of the past.
Begin investing. Not sure where to start on this one, but hopefully I can figure it out before then.
Go canoeing. I have been begging friends and family for years.
Go on vacation with my family.
Start a dream business or job. 😊 I hope it's blogging or designing something.
Declutter the closet and get rid of the old clothes.
Take more pictures. Of myself, family, friends, events. I don't have a great memory so having pictures is a must.
Own one of those high-end lit-up wicked gaming computers. Yes, I am a gaming nerd and would love to have a sweet set-up.
Put some crazy color in my hair. I've always had to keep it natural whether for school or work… so this is going to happen. Eventually.
Go on an amazing anniversary vacation. It is well-deserved.
See the kids being active, healthy, and happy!
Read the entire Bible.
Read 10 books. I'm not an avid reader at all. So, I'll need some motivation for this one.
Start a garden.
Write 100 blog posts.
Have family pictures taken. I always want this, but it always ends up being last on the list!
Hire a maid. Cleaning is for the birds and those birds can eat baseboard cleaning. I never knew how irritating it would be to keep baseboards clean!
Donate blood and figure out my blood type.
Purchase a DNA/Ancestry test.
Teach an online class that's beneficial and fun.
Go jet-skiing.
That's all folks. I can't wait to see what happens. If you want to create your own list, download the printable below to start your future accomplishments!! 🙂
Wish me luck! Hope you have a great day!